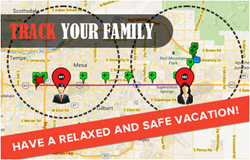 Cell Police can keep your family safe for less than a dollar a day!
(PRWEB) November 15, 2013
The "Cell Police" mobile application and software was featured on NewsWatch as part of its popular segment, AppWatch, that takes a look at the latest and coolest mobile applications and services on the iOS and Android market. Andrew Tropeano, host of AppWatch, conducted the app review and shared with viewers how the app can help users keep their families and pets safe.
The worst experience for a parent and pet owner is the panic of having no idea where their child or pet may be. And as kids get older, they get more adventuresome, especially in their teenage years. To make sure parents know where their entire family is at any moment, the Cell Police mobile application and software can help.
Cell Police has two products reviewed on NewsWatch, the Vacation Protector and the Family Protector. Each allows users to see on a satellite map where their family members are in real time. For users who want to make sure their children aren't sneaking out or their pets aren't leaving the yard, the app allows them to put a geo-field around each person or animal. When the geo-field's broken, meaning they go outside of it, they're notified immediately. In emergency cases, parents can turn on their child's camera to see where they are or look at their texts to make sure they aren't involved in dangerous situations. Cell Police is great for kids, pets, and spouses, but is also available for businesses who want to keep tabs on employees.
To learn more, visit http://www.cellpolice.com.
About NewsWatch
NewsWatch is a weekly 30-minute consumer oriented television show that airs monthly on the History Channel and weekly on the ION Network. NewsWatch regularly features top technology products, unique and beautiful travel destinations, health tips, medical breakthroughs, and entertainment news on the show. A recent addition to NewsWatch, AppWatch is a weekly segment that provides viewers app reviews and game reviews of the latest and hottest apps and games out on the market for iOS and Android devices.
The show airs in 180 markets nationwide as well as all of the top 20 broadcast markets in the country, and is the preferred choice for Satellite Media Tour and Video News Release Distribution.
For more information or to watch the latest app reviews featured on the show, head to http://www.NewsWatchTV.com/appwatch.html.