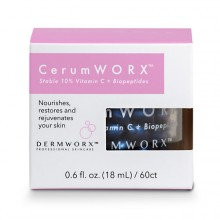 CerumWORX is such an easy product to use. It's effective at reducing wrinkles!
(PRWEB) August 23, 2014
"CerumWORX" was featured on NewsWatch as part of its monthly HealthWatch Report, which reveals and reviews the latest and coolest health-oriented products and stories. Mallory Sofastaii, a host of NewsWatch and health expert, conducted the product review and shared with viewers how it provides a daily dose of clinically proven antioxidants that nourish and smooth skin.
Sun exposure feels good in the short-term, but overtime it can take its toll on skin, leaving it wrinkled, spotted, and dull looking. Products with SPF offer skin protection, but there are actually two sides of sun care, protection and restoration.
Skin restoration reverses the visible effects of sun exposure by applying antioxidants, topical ingredients that fight the skin-aging effects of the sun. A great product by DermWORX called CerumWORX provides a daily dose of clinically proven antioxidants that nourish and smooth skin, while diminishing the look of those fine lines and wrinkles.
One of the common problems with antioxidants is their shelf life. Once opened, they begin to degrade. CerumWorx comes in these convenient, single-use capsules that offer fresh product with each application.
In addition, they're easy to use. All a consumer needs to do is twist off the top and start using. One jar of CerumWorx has 60 capsules in it and costs $75.00.
To learn more or give CerumWORX a try, see a dermatologist or visit http://www.dermworx.com.
About The Rapid Repetition Technology (RRT™)
The patented two handled center weight design provides increased control and balance when performing workouts. In addition, this unique design allows the utilization of high speed repetition to easily overcome inertia and gravity to achieve unparalleled strength training and muscular endurance when doing various workouts. DB2 and its Rapid Repetition Technology (RRT™) allows one to experience a total body, high intensity, core strengthening and functional workout that only requires just minutes a day.
About NewsWatch
NewsWatch is a weekly 30-minute consumer oriented television show that airs on the History Channel, FYI Network, and ION Network. NewsWatch regularly features top technology products and services, mobile applications for iOS, Android, and Windows devices, unique and beautiful travel destinations around the world, health and medical tips, and entertainment interviews on the show. NewsWatch airs on the History Channel at 6:00 – 6:30 AM ET/PT and on the FYI Network from 7:00 – 7:30 AM ET.
NewsWatch is located in the greater Washington, DC area and has been on air for over 25 years. For more information or to watch the most recent episode, visit http://newswatchtv.com.