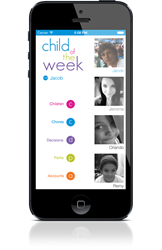 Child of the Week is the ultimate way to break up sibling disputes!
Washington, DC (PRWEB) May 15, 2014
"Child of the Week", a mobile application for settling sibling disputes was featured on NewsWatch as part of its popular segment, AppWatch, that takes a look at the latest and coolest mobile applications and services on the iOS, Android, and Windows market. Andrew Tropeano, the host of AppWatch, conducted the review and shared with viewers how it uses a rotating schedule to tell children their responsibilities and perks for the week.
Child of the Week has worked to end arguments among siblings. The app uses a rotating schedule to tell which child gets all the perks, but also all the responsibilities and chores for the week.
Once a parent sets up an account, they can add each child and assign them a photo and color. Then all the kids download it on their phone and see who is the child of that particular week. They can also see what perks they get and what chores they have to complete while in the front seat.
The "Decision" function allows a parent to pose a question like "what do you want for dinner?" All the kids can respond with their preferences, but the child of the week gets final say. It cuts out arguments but makes sure each kid feels special and learns to manage their responsibilities.
Child of the Week is available for iOS devices for $1.99. To learn more visit http://www.childoftheweek.net.
About NewsWatch
NewsWatch is a weekly 30-minute consumer oriented television show that airs monthly on the History Channel and Biography Channel, and weekly on the ION Network. NewsWatch regularly features top technology products, unique and beautiful travel destinations, health tips, medical breakthroughs, and entertainment news on the show. A recent addition to NewsWatch, AppWatch is a weekly segment that provides viewers app reviews and game reviews of the latest and hottest apps and games out on the market for iOS and Android devices.
The show airs in 180 markets nationwide as well as all of the top 20 broadcast markets in the country, and is the preferred choice for Satellite Media Tour and Video News Release Distribution.
For more information or to watch the latest app reviews featured on the show, head to http://www.NewsWatchTV.com/appwatch.html.