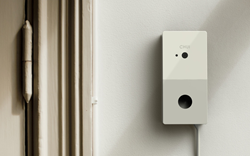 Chui is the next step in full home automation. Simply amazing!
Washington, DC (PRWEB) March 17, 2014
"Chui" was featured on NewsWatch as part of its 2014 Consumer Electronic Show Wrap Up, which took a look at the latest and coolest technology showcased at the trade show. Scott Steinberg, a guest host of NewsWatch and technology expert, conducted the product review and shared with viewers how the device is a smart camera that can recognize who is at the front door.
Home automation and facial recognition software are two tech trends that are gaining steam in the consumer industry. NewsWatch found a product at the 2014 Consumer Electronics Show that's combined the two to create a smart camera called Chui that's loaded with facial recognition software for the connected home.
Imagine placing Chui at a front door. Whenever someone rings the doorbell, the camera will recognize who they are and send a notification to a phone or tablet. The user can either respond with audio, view a live video feed, or provide an action like unlocking the door. It can all be done from thousands of miles away or a few feet away while on the couch.
Users can also setup profiles for people that grant or deny them access, or even leave personalized and custom messages. The software recognizes who they are and unlocks the door and turns on the lights. Users can setup all these presets on their mobile or web app. Chui is an incredibly intelligent piece of hardware that's moving the consumer electronics industry towards the direction of full home automation. To learn more about Chui visit http://www.getchui.com.
About NewsWatch
NewsWatch is a weekly 30-minute consumer oriented television show that airs monthly on the History Channel and weekly on the ION Network. NewsWatch regularly features top technology products, unique and beautiful travel destinations, health tips, medical breakthroughs, and entertainment news on the show. A recent addition to NewsWatch, AppWatch is a weekly segment that provides viewers app reviews and game reviews of the latest and hottest apps and games out on the market for iOS and Android devices.
The show airs in 180 markets nationwide as well as all of the top 20 broadcast markets in the country, and is the preferred choice for Satellite Media Tour and Video News Release Distribution.
For more information or to catch all the products reviewed at the 2014 Consumer Electronics Show, visit http://newswatchtv.com/ces-2014.html.