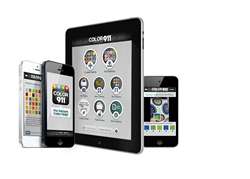 Washington, DC (PRWEB) December 12, 2013
The "Color911" mobile application was featured on NewsWatch as part of its popular segment, AppWatch, that takes a look at the latest and coolest mobile applications and services on the iOS, Android, and Windows market. Andrew Tropeano, host of AppWatch, conducted the app review and shared with viewers how the app helps users understand and use colors in everyday life
Let's face it, most people aren't color experta. They understand that pairing brown and black together is a no-no and to avoid layering patterns on patterns, but that's about it. Having a legitimate source of knowledge in the world of color is incredibly useful; which is what users get with Color911, an app created by a color expert. The app helps consumers better understand color combinations – from decorating their home to putting on clothing.
The app has multiple functions. The first function is to create colors with the color wheel and save them for future use. The second allows users to take a photo or use an image, and find the colors in the photo. For example, users can take a photo of their favorite flower bouquette, then find the colors in it and add them to the application's pallet. Finally, the app has dozens of themes with color combinations. Users can find a specific color in any theme and the adjacent colors will match it. Color911 is a great resource for understanding colors, from clothing to home decor.
Color911 is available for iOS devices and costs $4.99. To learn more, visit http://www.color911.com.
About NewsWatch
NewsWatch is a weekly 30-minute consumer oriented television show that airs monthly on the History Channel and weekly on the ION Network. NewsWatch regularly features top technology products, unique and beautiful travel destinations, health tips, medical breakthroughs, and entertainment news on the show. A recent addition to NewsWatch, AppWatch is a weekly segment that provides viewers app reviews and game reviews of the latest and hottest apps and games out on the market for iOS and Android devices.
The show airs in 180 markets nationwide as well as all of the top 20 broadcast markets in the country, and is the preferred choice for Satellite Media Tour and Video News Release Distribution.
For more information or to watch the latest app reviews featured on the show, head to http://www.NewsWatchTV.com/appwatch.html.