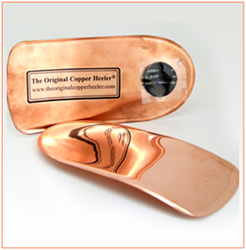 (PRWEB) April 17, 2014
"The Original Copper Heeler", a copper insole designed to manage the debilitating effects of arthritis and joint pain, was featured on NewsWatch as part of its popular segment, HealthWatch, which took a look at the latest medical products and services available to consumers. Susan Bridges, the host of NewsWatch and a medical expert, conducted the product review and shared with viewers how many users can now lead a normal life without invasive surgery.
According to the CDC, over 22 percent of adults in the United States report being told by a doctor they have some form of arthritis and over 30 percent say they have joint pain. That number jumps with age, as nearly 50% of adults over the age of 65 have been diagnosed with arthritis. So how do you treat arthritis and joint pain? A non-invasive product that's seen incredible success in the UK called the Original Copper Heeler has been shown to take away the pain of arthritis and other joint discomfort.
The Original Copper Heeler is a copper insole created by Anthony Andrews, the owner of London's most fashionable custom shoe store. The Insoles can help manage the debilitating effects of osteo and rheumatoid arthritis effectively and many users report they no longer need pain medications or require surgery to lead a normal life. The insoles are not intended as a cure arthritis or other joint diseases and does not make any claim to that effect.
For the millions of Americans that deals with arthritis or other joint pains, the Original Copper Heeler is available for $49.50 by heading to http://www.theoriginalcopperheelerusa.com.
About NewsWatch
NewsWatch is a weekly 30-minute consumer oriented television show that airs monthly on the History Channel and weekly on the ION Network. NewsWatch regularly features top technology products, unique and beautiful travel destinations, health tips, medical breakthroughs, and entertainment news on the show. A recent addition to NewsWatch, AppWatch is a weekly segment that provides viewers app reviews and game reviews of the latest and hottest apps and games out on the market for iOS and Android devices.
The show airs in 180 markets nationwide as well as all of the top 20 broadcast markets in the country, and is the preferred choice for Satellite Media Tour and Video News Release Distribution.
For more information or to see other product and service reviews by NewsWatch, visit http://www.newswatchtv.com.