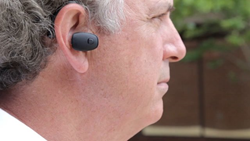 CS50 is a fantastic personal sound amplifier for anyone!
Washington, DC (PRWEB) June 25, 2014
The "CS50 Personal Sound Amplifier" by Sound World Solutions was featured on NewsWatch as part of its monthly Tech Report, which takes a look at the latest and coolest products in the technology world. Mallory Sofastaii, a host of NewsWatch and technology expert, conducted the product review and shared with viewers how it's the perfect gift for Dads, recent graduates, and anyone with a disability.
According to the National Institute of Health, over 36 million Americans report some degree of hearing loss. Combine them with the number of people who have hearing difficulties, and that's a large population.
The CS50 personal sound amplifier from Sound World Solutions is a unique product that not only helps people hear better, but also acts as a Bluetooth headset for mobile phone calls and streaming audio.
There are two ways to use the CS50. Consumers can purchase one and use it out of the box, or they can customize it with their free customization app for iPhone or Android mobile devices, and Bluetooth enabled Mac or Windows computers. With the app, users can customize the amplifier's settings to match their specific needs.
There are two buttons on the amplifier. One is for increasing and decreasing the volume, and the other is to toggle between modes. The first mode is for regular usage in normal environments, the second is for noisy situations like a restaurant, and the third is for entertainment situations.
The CS50 also comes with rechargeable batteries that will last up 15 hours per charge.
For more information, visit http://www.soundworldsolutions.com.
About NewsWatch
NewsWatch is a weekly 30-minute consumer oriented television show that also airs monthly on the History Channel, Bio Channel, and ION Network. NewsWatch regularly features top technology products, unique and beautiful travel destinations, health tips, medical breakthroughs, and entertainment news on the show.
Tech Report is a weekly segment that provides viewers tech reviews of the latest and hottest consumer oriented technology products on the market.
NewsWatch airs in 180 markets nationwide as well as all of the top 20 broadcast markets in the country, and is the preferred choice for Satellite Media Tour and Video News Release Distribution. For more information or to watch the June 2014 show, visit http://newswatchtv.com.
NewsWatch airs on the History Channel at 6:00 – 6:30 AM ET/PT and on the Bio Channel from 7:00 – 7:30 AM ET.