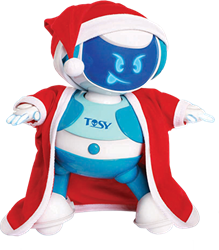 Washington, DC (PRWEB) February 20, 2014
The "DiscoRobo" by Tosy was featured on NewsWatch as part of its 2014 Consumer Electronic Show Wrap Up, which took a look at the latest and coolest technology showcased at the trade show. Scott Steinberg, a national technology expert, conducted the product review and shared with viewers how the robot can dance, talk, and interact with people.
One of the more consistent obsessions consumers have in the technology world is in the field of robotics. From movies to novels, consumers have been waiting for the moment where robots truly are part of their everyday life. While they certainly are an integral part of advanced medicine, they've only recently been introduced to shoppers.
A simple but fun robot for kids was showcased at the Consumer Electronics Show by a Tosy Robotics. It's called the DiscoRobo and it's a dancing robot that can also talk and interact. It comes in four different colors and can be controlled with the DiscoRobo mobile app or a television remote control. For anyone that owns two DiscoRobos, they talk and dance together as well.
It was one of the few but popular robots on display at the 2014 Consumer Electronics Show in Las Vegas drew quite a crowd. It's great for families and kids and can be purchased on Amazon or http://www.Tosy.com.
About NewsWatch
NewsWatch is a weekly 30-minute consumer oriented television show that airs monthly on the History Channel and weekly on the ION Network. NewsWatch regularly features top technology products, unique and beautiful travel destinations, health tips, medical breakthroughs, and entertainment news on the show. A recent addition to NewsWatch, AppWatch is a weekly segment that provides viewers app reviews and game reviews of the latest and hottest apps and games out on the market for iOS and Android devices.
The show airs in 180 markets nationwide as well as all of the top 20 broadcast markets in the country, and is the preferred choice for Satellite Media Tour and Video News Release Distribution.
For more information or to catch all the products reviewed at the 2014 Consumer Electronics Show, visit http://newswatchtv.com/ces-2014.html.