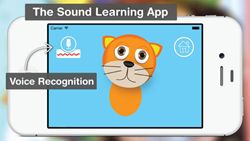 Washington, DC (PRWEB) August 05, 2014
"DuckyDo" was featured on NewsWatch as part of its monthly AppWatch, which takes a look at the latest and coolest apps on the iOS, Android, and Windows markets. Andrew Tropeano, a host of NewsWatch and a mobile technology expert, conducted the app review and shared with viewers how it's a fun and easy way to teach children their first language.
How children learn a language is still an active topic of research. Many scientific studies agree that imitation plays a key role in their language development. For parents that want to potentially speed up the process and help their children grasp their first language, give a free app called DuckyDo a try.
DuckyDo plays common animal sounds to a child and challenges them to imitate them using voice recognition technology. Not only are they being introduced to animals and the sounds they make, but they're developing the fundamental building blocks for their first language.
Once a parent downloads the app, there are three options for the child. The autoplay option is for newborn infants and it shows the animal then plays their sounds. The learning section is for 1 to 3 year olds and animals automatically appear and challenge the child to imitate them. When the child imitates the sound, the app gives a certain amount of stars depending on how good the imitation was. Finally, the training section is where a child can choose any animal and perfect their sound.
DuckyDo is a very cute app that has an easy to use interface. It's fun but also educational. To download it, visit https://itunes.apple.com/us/app/duckydo-hd-animal-impressions/id796569737?mt=8.
About NewsWatch
NewsWatch is a weekly 30-minute consumer oriented television show that airs on the History Channel, FYI Network, and ION Network. NewsWatch regularly features top technology products and services, mobile applications for iOS, Android, and Windows devices, unique and beautiful travel destinations around the world, health and medical tips, and entertainment interviews on the show. NewsWatch airs on the History Channel at 6:00 – 6:30 AM ET/PT and on the FYI Network from 7:00 – 7:30 AM ET.
NewsWatch is located in the greater Washington, DC area and has been on air for over 25 years. For more information or to watch the most recent episode, visit http://newswatchtv.com/appwatch.html.