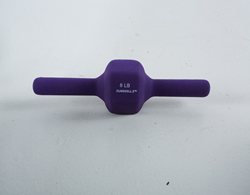 The Dumbbell 2 is a great workout tool for fitness fans of all expertise levels!
Washington, DC (PRWEB) August 21, 2014
"Dumbbell 2" was featured on NewsWatch as part of its monthly Tech Report, which takes a look at the latest and coolest products in the technology world. Mallory Sofastaii, a host of NewsWatch and technology expert, conducted the product review and shared with viewers how it's a unique but ideal fitness tool for all levels of expertise.
The Dumbbell 2 by RConcepts, Inc. is a non-traditional dumbbell with a centered weight and handles on each side. The design fosters a more effective workout that allows for rapid repetitions and isolation while strengthening the users' form by forcing their elbows inward.
The Dumbbell 2 works for any fitness level, from beginner to elite athlete, from young to elderly fitness enthusiasts. It's a convenient option for anyone aiming to engage in a daily workout routine. It offers faster and more effective results while increasing muscle engagement. Improved muscle engagement can lead to an increase of 55 percent more muscle recruitment. Results are especially prevalent when used daily.
The Dumbbell 2 is available to consumers in a variety of sizes and colors. They offer weights ranging from 4 lbs to 50 lbs, as well as 7 different colors.
To learn more about the product, visit http://www.dumbbell2.com.
About The Rapid Repetition Technology (RRT™)
The patented two handled center weight design provides increased control and balance when performing workouts. In addition, this unique design allows the utilization of high speed repetition to easily overcome inertia and gravity to achieve unparalleled strength training and muscular endurance when doing various workouts. DB2 and its Rapid Repetition Technology (RRT™) allows one to experience a total body, high intensity, core strengthening and functional workout that only requires just minutes a day.
About NewsWatch
NewsWatch is a weekly 30-minute consumer oriented television show that airs on the History Channel, FYI Network, and ION Network. NewsWatch regularly features top technology products and services, mobile applications for iOS, Android, and Windows devices, unique and beautiful travel destinations around the world, health and medical tips, and entertainment interviews on the show. NewsWatch airs on the History Channel at 6:00 – 6:30 AM ET/PT and on the FYI Network from 7:00 – 7:30 AM ET.
NewsWatch is located in the greater Washington, DC area and has been on air for over 25 years. For more information or to watch the most recent episode, visit http://newswatchtv.com/tech-report.html.