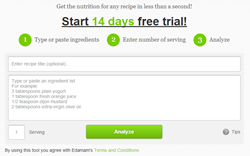 I love knowing what nutrients a recipe has. It makes controlling my caloric intake possible!
Washington, DC (PRWEB) April 09, 2014
"Nutrition Wizard", a website service that instantly analyzes the nutritional content of a recipe, was featured on NewsWatch as part of its popular segment, HealthWatch, which took a look at the latest medical products and services available to consumers. Susan Bridges, the host of NewsWatch and a medical expert, conducted the review and explained to viewers how it can help them eat more healthily and gain control of the ingredients they use in recipes.
Cooking at home allows consumers to control the ingredients and how they're cooked. With thousands of recipes to choose from, consumers can eat nearly any meal they want. The problem with recipes and cooking on the fly is home chefs don't know the exact nutritional information of what they're putting into their body.
Edamam.com has created the technology to take any recipe and analyze instantly its nutritional content, from calories to protein to cholesterol and minerals. Best of all, the technology understands natural language so consumers can enter a recipe the way they speak or copy and paste it from somewhere else. It will also understand things like "salt and pepper to taste" and calculate the amount of oil absorbed when frying something.
The nutrient data comes from the USDA and Edamam's own analysis. Nutrition Wizard offers a two week trail, then $2.95 a month after that.
To give it a try and get a better understanding of the nutritional content in a recipe, visit http://www.edamam.com.
About NewsWatch
NewsWatch is a weekly 30-minute consumer oriented television show that airs monthly on the History Channel and weekly on the ION Network. NewsWatch regularly features top technology products, unique and beautiful travel destinations, health tips, medical breakthroughs, and entertainment news on the show. A recent addition to NewsWatch, AppWatch is a weekly segment that provides viewers app reviews and game reviews of the latest and hottest apps and games out on the market for iOS and Android devices.
The show airs in 180 markets nationwide as well as all of the top 20 broadcast markets in the country, and is the preferred choice for Satellite Media Tour and Video News Release Distribution.
For more information or to see other product and service reviews by NewsWatch, visit http://www.newswatchtv.com.