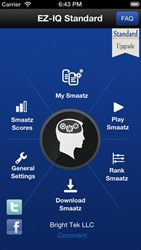 I already feel smarter after playing it – something I didn't think possible!
(PRWEB) December 15, 2013
The "EZ-IQ" mobile application was featured on NewsWatch as part of its popular segment, AppWatch, that takes a look at the latest and coolest mobile applications and services on the iOS, Android, and Windows market. Andrew Tropeano, host of AppWatch, conducted the app review and shared with viewers how the app can increase brain activity, subject knowledge, and overall intelligence.
The human brain is an incredibly complex and interesting part of the human anatomy. With over 100 billion neurons, the human brain is capable of incredible things. But when left mentally unchallenged, the amount of neurons the human brain creates slows down. Thus exercising it is incredibly important.
EZ-IQ does just that by giving users "Smaatz" quizzes that increase brain activity and subsequently their knowledge on a subject and their overall intelligence. With it, users can take quizzes on random subjects, or create their own "smaatz" to study for a test or prepare for a presentation at work. The main purpose of the app is to challenge a user's brain and build their intelligence.
There are three versions of EZ-IQ –the standard, the premium, and the expert version. Users can create their own questions on all of three. The standard is free and has 12 preloaded quizzes on it but users are limited to 10 questions per "smaatz" they create. The premium is 99 cents and removes the limit of questions users can put in their "smaatz". The expert has all those features but lets businesses brand the questions with their logo, name, and contact info.
To give EZ-IQ a try, visit http://www.ez-iq.com today.
About NewsWatch
NewsWatch is a weekly 30-minute consumer oriented television show that airs monthly on the History Channel and weekly on the ION Network. NewsWatch regularly features top technology products, unique and beautiful travel destinations, health tips, medical breakthroughs, and entertainment news on the show. A recent addition to NewsWatch, AppWatch is a weekly segment that provides viewers app reviews and game reviews of the latest and hottest apps and games out on the market for iOS and Android devices.
The show airs in 180 markets nationwide as well as all of the top 20 broadcast markets in the country, and is the preferred choice for Satellite Media Tour and Video News Release Distribution.
For more information or to watch the latest app reviews featured on the show, head to http://www.NewsWatchTV.com/appwatch.html.