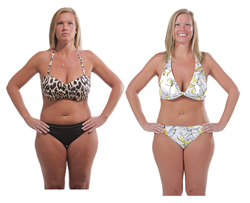 The Fascia Blaster gets rid of dimples, gives better blood flow, better neurological activity, and better access to the muscles! It's a pretty amazing design.
Washington, DC (PRWEB) October 01, 2014
"Fascia Blaster" was featured on NewsWatch as part of its monthly HealthWatch, which features the latest health news and health-related products in the medical industry. Mallory Sofastaii, a health and technology expert and reporter for NewsWatch, conducted the product review and shared with viewers how it is used by consumers to break down cellulite.
Diet and exercise are key to reducing body fat and maintaining a healthy weight. Fascia is connective tissue in our bodies that can impede blood flow, pinch nerves, cause pain, inhibit mobility and cause a host of other problems. It can also make losing body fat difficult.
Ashley Black, a fascia expert and founder of FasciAnatomy believes she's found the answer to losing weight by loosening the fascia, allowing entrapped fat to redistribute and leave the body.
"One of the things that's really cool about the Fascia Blaster is that these legs are so dense that they break through hard crusty crystalized fascia," said Ashley Black. "And then once you're through the surface, they can actually penetrate down into the muscle, breaking up the fascia completely and getting rid of dimples, giving better blood flow, better neurological activity, better access to the muscles. It's a pretty amazing design."
The Fascia Blaster is available to the public for approximately $89.00. To learn more about it or to purchase one, visit http://www.fasciablaster.com today.
About NewsWatch
NewsWatch is a weekly 30-minute consumer oriented television show that airs on the History Channel, FYI Network, and ION Network. NewsWatch regularly features top technology products and services, mobile applications for iOS, Android, and Windows devices, unique and beautiful travel destinations around the world, health and medical tips, and entertainment interviews on the show. NewsWatch airs on the History Channel at 6:00 – 6:30 AM ET/PT and on the FYI Network from 7:00 – 7:30 AM ET.
NewsWatch is located in the greater Washington, DC area and has been on air for over 25 years. For more information or to watch the most recent episode, visit http://newswatchtv.com.