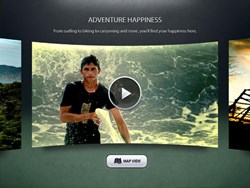 Washington, DC (PRWEB) December 24, 2013
On Friday, December 20, NewsWatch featured the goCostaRica iPad® application on its popular segment, AppWatch, which takes a look at the latest and coolest mobile applications and services on the iOS and Android market. The Costa Rica Tourism Board application was reviewed and viewers were shown how the application allows users to experience the beauty of Costa Rica on their iPad.
"A few years ago I visited Costa Rica for a month. It was one of the best trips I've been on," said Andrew Tropeano, host, AppWatch. "So when I heard about goCostaRica, an app that helps you experience the beauty of the country on your iPad, I had to check it out."
Created by advertising agency 22squared and developed by MaxMedia, goCostaRica is a free iPad application that allows travelers to explore points of interest in Costa Rica through a selection of videos, photos and interactive maps. Users can also build their own Precation video – a customizable pre-vacation film – share it with friends via Facebook and email, and discover the culture, nature, adventure and relaxation that await them in Costa Rica. Users can arrange the content in any manner they please, creating Precations that let them experience Costa Rica before they visit. Choosing from 41 different videos and 8 automatically assigned music tracks, users have the ability to create hundreds of different Precations.
"There are so many rich experiences in Costa Rica – from the rainforest and Arenal Volcano to the butterfly garden and Manuel Antonio National Park – so we're lowering the barrier of entry for people who are curious about the country by giving them a preview of what's possible," added John Stapleton, EVP, Chief Creative Director, 22squared. "goCostaRica incorporates the authenticity of the country, and we hope it will encourage viewers to dream about and discover the vast beauty and diversity of Costa Rica."
To download the free goCostaRica iPad app, visit https://itunes.apple.com/us/app/gocostarica/id687797229?mt=8.
About NewsWatch
NewsWatch is a weekly 30-minute consumer oriented television show that airs monthly on the History Channel and weekly on the ION Network. NewsWatch regularly features top technology products, unique and beautiful travel destinations, health tips, medical breakthroughs, and entertainment news on the show. A recent addition to NewsWatch, AppWatch is a weekly segment that provides viewers app reviews and game reviews of the latest and hottest apps and games out on the market for iOS and Android devices. The show airs in 180 markets nationwide, as well as all of the top 20 broadcast markets in the country, and is the preferred choice for Satellite Media Tour and Video News Release Distribution. For more information or to watch the latest app reviews featured on the show, head to http://www.NewsWatchTV.com/appwatch.html.
About the Costa Rica Tourism Board
The Costa Rica Tourism Board, created in 1955, is responsible for promoting Costa Rica as a tourism destination nationally and internationally; establishing tourism norms, regulations and incentives; and certifying Costa Rica's hotels, travel agencies, rental cars and other tourism service providers under its world-renowned Certification of Sustainable Tourism program. For travel information about Costa Rica, contact the Costa Rica Tourism Board directly at 1-866-267-8274, visit visitcostarica.com or follow us on Facebook, Twitter or YouTube. For press inquiries, please contact 1-888-600-6806.
About 22squared
22squared creates exponential ideas for exponential results because who doesn't want to add "squared" to reach, advocacy or sales? We are the #3 Most Effective Independent Agency in the country and we create big brand ideas for Baskin-Robbins, Buffalo Wild Wings, The Costa Rica Tourism Board, Florida's Natural Growers, Publix Super Markets, Inc., Southeast Toyota Distributors and other iconic brands to spark conversation in the public at large and turn customers into advocates. How else could a 91-year-old shop reinvent itself and be awarded iMedia's Best Agency for Social Media? Visit 22squared.com to learn more.