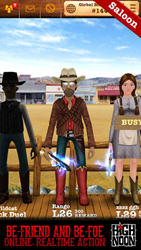 High Noon 2 will unleash your inner John Wayne! So much fun, definitely worth a download!
Washington, DC (PRWEB) September 03, 2014
"High Noon 2", a mobile game was featured on NewsWatch as part of its monthly AppWatch, which takes a look at the latest and coolest apps on the iOS, Android, and Windows markets. Andrew Tropeano, a host of NewsWatch and a mobile technology expert, conducted the app review and shared with viewers how it's a fun and interactive shooter game based in the old west.
High Noon 2 lets players square off against other cowboys manned by real players in real time, to become the best shooter in the west. There are various levels of duels players experience as they compete against the best players from around the globe.
Players can choose their weapon, maybe the sniper rifle, the revolver, or the shotgun, and then choose who to fight. As a player fights, they must reload by "cocking" the phone downwards. The battle is also fun and challenging as both players move side to side, forcing each gamer to aim and follow them with their weapon to score a hit.
Players aim with their phone by angling it up, down, left, and right. Whoever gets the most hits in, wins. High Noon 2 is fun and free to play.
TO download it and climb the charts to become the best gunslinger in the world, visit iTunes or the Google Play Store and search "High Noon 2" or head to https://itunes.apple.com/us/app/high-noon-2-multiplayer-fps/id654941133?mt=8.
About NewsWatch
NewsWatch is a weekly 30-minute consumer oriented television show that airs on the History Channel, FYI Network, and ION Network. NewsWatch regularly features top technology products and services, mobile applications for iOS, Android, and Windows devices, unique and beautiful travel destinations around the world, health and medical tips, and entertainment interviews on the show. NewsWatch airs on the History Channel at 6:00 – 6:30 AM ET/PT and on the FYI Network from 7:00 – 7:30 AM ET.
NewsWatch is located in the greater Washington, DC area and has been on air for over 25 years. For more information or to watch the most recent episode, visit http://newswatchtv.com.