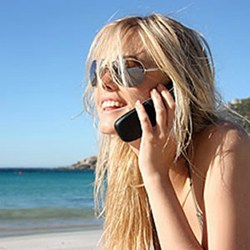 Holiday Phone lets you use your phone as if you were home.
Washington, DC (PRWEB) July 20, 2013
Holiday Phone was featured on NewsWatch as part of its popular Technology Report segment, that takes a look at the latest and coolest technology products and services available on the market. Andrew Tropeano, host of the segment, shared with viewers how Holiday Phone can save users money abroad with a prepaid international SIM card for their smartphone.
28 million international trips were taken by US Citizens last year. The majority of them have cell phones, but using them for calling, texting or surfing while abroad is either impossible or incredibly expensive. HolidayPhone is a solution to this common problem among international travelers. It's a pre-paid SIM card for an iPhone or Android-based phone that allows consumers to make local calls from their cell phone in 29 major countries. Instead of worrying about a cell phone bill at the end of the month because of roaming charges, users know exactly what they paid when they purchased the card. A phone equipped with the SIM Card can still make calls, text, upload photos, and use social networks.
Each country requires a different SIM card, so the prices vary. Examples include $45.00 for traveling to the United Kingdom or Germany and $39.00 for traveling to Mexico or Spain.
For anyone going on an international trip soon, Holiday Phone is a must-have product. For more information, head to http://www.holidayphone.com.
NewsWatch is a weekly 30-minute consumer oriented television show that airs monthly on the History Channel and weekly on the ION Network. NewsWatch regularly features top technology products, unique and beautiful travel destinations, health tips, medical breakthroughs, and entertainment news on the show. A recent addition to NewsWatch, AppWatch is a weekly segment that provides viewers app reviews and game reviews of the latest and hottest apps and games out on the market for iOS and Android devices.
The show airs in 180 markets nationwide as well as all of the top 20 broadcast markets in the country, and is the preferred choice for Satellite Media Tour and Video News Release Distribution.
For more information or to watch the latest segments featured on the show, head to http://www.NewsWatchTV.com/technology.html.