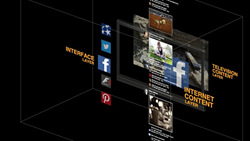 The InAiR is the next big step in fusing television and the internet! Very cool KickStarter campaign!
Washington, DC (PRWEB) March 18, 2014
The "InAiR" was featured on NewsWatch as part of its 2014 Consumer Electronic Show Wrap Up, which took a look at the latest and coolest technology showcased at the trade show. Scott Steinberg, a guest host of NewsWatch and technology expert, conducted the product review and shared with viewers how the device provides an overlay of related web content and social media channels to the television experience.
Despite what some people may say, there are two major mediums for entertainment and news – the television and internet. Surprisingly, there isn't a viable option that combines the two. A kickstarter company, SeeSpace created the InAiR, a small device that uses Automated Content Recognition to understand what consumers are watching on television to provide an overlay of related web content and social media channels for sharing.
The final product is an interactive and futuristic experience, where viewers swipe through content as their television plays. For example, while watching a football game, the InAiR will display content on the teams playing, the stats of a receiver who caught a pass, or even other scores.
The consumer can control the entire experience through an app on their mobile phone with swipe gestures or can connect the InAiR to an XBox Kinect or Leap Motion and use hand gestures to move through the content.
To setup the device, users plug one end into the HDMI port on their television and the other into a cable box.
The InAiR by SeeSpace is a major step in the fusion of television and internet. It won't be available until September, but to learn more, visit https://www.kickstarter.com/projects/2128859975/inair-the-worlds-1st-augmented-television.
About NewsWatch
NewsWatch is a weekly 30-minute consumer oriented television show that airs monthly on the History Channel and weekly on the ION Network. NewsWatch regularly features top technology products, unique and beautiful travel destinations, health tips, medical breakthroughs, and entertainment news on the show. A recent addition to NewsWatch, AppWatch is a weekly segment that provides viewers app reviews and game reviews of the latest and hottest apps and games out on the market for iOS and Android devices.
The show airs in 180 markets nationwide as well as all of the top 20 broadcast markets in the country, and is the preferred choice for Satellite Media Tour and Video News Release Distribution.
For more information or to catch all the products reviewed at the 2014 Consumer Electronics Show, visti http://newswatchtv.com/ces-2014.html.