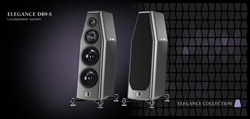 Washington, DC (PRWEB) February 23, 2014
The "Elegance dB11-S" speakers by Kharma International was featured on NewsWatch as part of its 2014 Consumer Electronic Show Wrap Up, which took a look at the latest and coolest technology showcased at the trade show. Scott Steinberg, a guest host of NewsWatch and technology expert, conducted the product review and shared with viewers how the speakers provide three dimensional sound quality that is unlike most other speakers on the market.
Every year a few products stand out at CES and win an Innovation award. This year, Kharma International, a high-end audio equipment manufacturer producing mainly loudspeakers and cables, won the International CES Innovations 2014 Design and Engineering Award for their Elegance dB11-S. The Elegance dB11-S is a beautiful loudspeaker made of bulletproof laminate that has been engineered for loud and near-perfect sound quality.
Internally, the speaker is wired with pure silver and has a cabinet shape that produces a three dimensional sound quality that is unlike other loudspeakers. It's built for medium to large living rooms where the sound levels can be taken advantage of.
To learn more about this speaker, visit http://www.kharma.com.
About NewsWatch
NewsWatch is a weekly 30-minute consumer oriented television show that airs monthly on the History Channel and weekly on the ION Network. NewsWatch regularly features top technology products, unique and beautiful travel destinations, health tips, medical breakthroughs, and entertainment news on the show. A recent addition to NewsWatch, AppWatch is a weekly segment that provides viewers app reviews and game reviews of the latest and hottest apps and games out on the market for iOS and Android devices.
The show airs in 180 markets nationwide as well as all of the top 20 broadcast markets in the country, and is the preferred choice for Satellite Media Tour and Video News Release Distribution.
For more information or to catch all the products reviewed at the 2014 Consumer Electronics Show, visti http://newswatchtv.com/ces-2014.html.