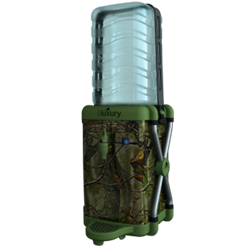 Washington, DC (PRWEB) March 31, 2014
Two "Little Luxury" personal water coolers were featured on NewsWatch as part of its 2014 Consumer Electronic Show Wrap Up, which took a look at the latest and coolest technology showcased at the trade show. Scott Steinberg, a guest host of NewsWatch and technology expert, conducted the product reviews and shared with viewers how they make ice cold filtered water accessible to anyone, anywhere.
According to health experts, it's recommended to drink between 48 and 64 ounces of water a day. Unfortunately, most people, especially kids, don't drink enough water. An award winning product at the 2014 Consumer Electronics Show, Little Luxury, makes ice cold filtered water accessible to anyone, anywhere.
The personal water cooler not only cools water but also has a built in replaceable filter, so consumers don't need to use bottled water. There are two different versions available, the classic indoor version and the new outdoor series which filters water from a river or a stream. They both use the same technology, but differ in frame and energy source. Each weigh approximately 8 lbs. Both can connect to a standard outlet but the extreme outdoor version has a more robust frame and can also run on a 12 volt re-chargeable battery.
The Little Luxury filters are clinically tested and last up to four months and can filter up to 130 gallons before needing to be replaced.
The classic indoor model starts at $99.00 and the extreme outdoor series starts at $129.00. Both will be available from several retailers in April or you can take advantage of a 20% off advance order on http://www.littleluxury.com.
About NewsWatch
NewsWatch is a weekly 30-minute consumer oriented television show that airs monthly on the History Channel and weekly on the ION Network. NewsWatch regularly features top technology products, unique and beautiful travel destinations, health tips, medical breakthroughs, and entertainment news on the show. A recent addition to NewsWatch, AppWatch is a weekly segment that provides viewers app reviews and game reviews of the latest and hottest apps and games out on the market for iOS and Android devices.
The show airs in 180 markets nationwide as well as all of the top 20 broadcast markets in the country, and is the preferred choice for Satellite Media Tour and Video News Release Distribution.
For more information or to catch all the products reviewed at the 2014 Consumer Electronics Show, visit http://newswatchtv.com/ces-2014.html.