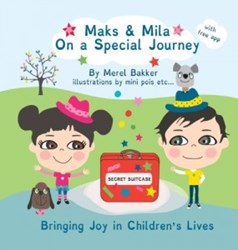 Maks & Mila is a beautiful book that brings joy and self-confidence into the lives of children!
Washington, DC (PRWEB) August 17, 2013
"Maks & Mila" was featured on NewsWatch as part of its popular segment, AppWatch, that takes a look at the latest and coolest mobile applications and mobile services on the market. Andrew Tropeano, host of AppWatch, shared with viewers how the app, accompanied by the book, can help children with dyslexia learn to read.
Dyslexia is a reading disability that causes children and adults affected by it to have difficulty with reading comprehension and fluent reading. According to the Michigan Dyslexia Institute (http://www.dyslexia.net/), the condition affects one in every five people, but the majority of people with dyslexia will never be diagnosed and likely struggle their entire lives with reading, despite having normal intelligence. The frustration caused by dyslexia can lead to anxiety, anger, and even depression. But if diagnosed early, most people can overcome it and lead totally normal lives filled with joy and self-confidence. This is the premise behind a children's book called "Maks and Mila".
Maks & Mila tell a story that fosters joy and inner-strength within children, but also employs a special font that is designed for children with dyslexia, making it easier for them to read and enjoy the book. When designing "Maks & Mila", Merel worked with children to determine which colors were most engaging and powerful. Her research is the cornerstone of the book and why children find it so enjoyable to read. In addition to the book, Maks & Mila comes in app form for additional engagement and fun. Both the app and the book share the same goal, to bring joy and self-confidence into the lives of children.
The app is available for free on iOS devices and the book can be purchased at Barnes & Noble or Amazon.com. To learn more about it, head to http://www.maks-mila.com today.
NewsWatch is a weekly 30-minute consumer oriented television show that airs monthly on the History Channel and weekly on the ION Network. NewsWatch regularly features top technology products, unique and beautiful travel destinations, health tips, medical breakthroughs, and entertainment news on the show. A recent addition to NewsWatch, AppWatch is a weekly segment that provides viewers app reviews and game reviews of the latest and hottest apps and games out on the market for iOS and Android devices.
The show airs in 180 markets nationwide as well as all of the top 20 broadcast markets in the country, and is the preferred choice for Satellite Media Tour and Video News Release Distribution.
For more information or to watch the latest app reviews featured on the show, head to http://www.NewsWatchTV.com/appwatch.html .