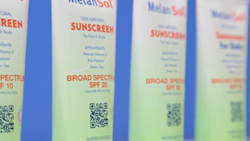 Melansol is a high quality natural sun screen that won't irritate your skin or eyes!
Washington, DC (PRWEB) May 07, 2014
"Melansol", a certified natural sunscreen, was featured on NewsWatch as part of its popular segment, HealthWatch, which took a look at the latest medical products and services available to consumers. Susan Bridges, the host of NewsWatch and a medical expert, conducted the product review and shared with viewers how it protects, hydrates, and conditions skin during sun exposure.
After a long winter for most of the country, the sun is starting to come out and millions of people are planning their outdoor activities. For those who shy away from using commercial sunscreen and question the healthiness of the ingredients, consider a natural option.
MelanSol, a certified natural sunscreen protects, hydrates, and conditions skin during sun exposure. While sunscreens almost always irritate skin and eyes and need to be applied 20 to 30 minutes before stepping into the sun, the creators of MelanSol designed their chemical free formulas to be pain and irritation free and protect the moment of application.
The key to MelanSol is its ground-breaking use of three powerful antioxidants that invisibly boost the skins ability to neutralize free radicals that cause sunburn and early skin aging. To satisfy different skin tones, they offer non-toxic sunscreen lotions in 10 SPF, 20 SPF, and 30 SPF, and have a healthy sunscreen for infants.
The Natural Products Association has independently certified all of their ingredients and they're ideal for year-round skin protection.
Skin is the largest organ of the human body, so it's important to be cognizant of what is put on it.
To learn more about MelanSol, head over to http://www.puresunscreen.com today.
About NewsWatch
NewsWatch is a weekly 30-minute consumer oriented television show that airs monthly on the History Channel and weekly on the ION Network. NewsWatch regularly features top technology products, unique and beautiful travel destinations, health tips, medical breakthroughs, and entertainment news on the show. A recent addition to NewsWatch, AppWatch is a weekly segment that provides viewers app reviews and game reviews of the latest and hottest apps and games out on the market for iOS and Android devices.
The show airs in 180 markets nationwide as well as all of the top 20 broadcast markets in the country, and is the preferred choice for Satellite Media Tour and Video News Release Distribution.
For more information or to see other product and service reviews by NewsWatch, visit http://www.newswatchtv.com.