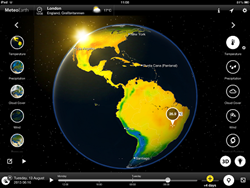 MeteoEarth is a comprehensive and fun app to check out the weather anywhere at anytime!
Washington, DC (PRWEB) June 18, 2014
The "MeteoEarth" weather application was featured on NewsWatch as part of its monthly AppWatch, which takes a look at the latest and coolest mobile applications on the iOS, Android, and Windows market. Andrew Tropeano, a host of NewsWatch and mobile technology expert, conducted the app review and shared with viewers how it's an interactive 3D app where users can navigate throughout the world and see the weather anywhere in real time.
With such erratic weather happening around the world this year, the first thing most people are doing when they wake up is checking the forecast. Consumers interested in a high end weather app should consider MeteoEarth.
MeteoEarth is an interactive 3D globe app that lets users navigate throughout the world and see the weather anywhere in real time. Users can see approaching hurricanes over the ocean, rain in Asia, and sunny skies in South America.
The app has multiple layers that can be added to the globe. From precipitation to temperature to cloud covers, users can overlay them all to get a full view of what's going on in any location. The app also has a webcam feature that lets users see what the weather is like on the streets of another city in real time. MeteoEarth has a geolocator to see weather in a user's exact location. And users can favorite an unlimited amount of locations.
One unique feature is the app allows users to see what the average temperature is at any point in the year in any location.
MeteoEarth is available for Android, iOS, and Windows devices and is available on a Mac or PC. To learn more, visit http://www.meteoearth.com.
About NewsWatch
NewsWatch is a weekly 30-minute consumer oriented television show that airs monthly on the History Channel, Bio Channel, and ION Network. NewsWatch regularly features top technology products, unique and beautiful travel destinations, health tips, medical breakthroughs, and entertainment news on the show. A recent addition to NewsWatch, AppWatch is a weekly segment that provides viewers app reviews and game reviews of the latest and hottest apps and games out on the market for iOS and Android devices. The show airs in 180 markets nationwide as well as all of the top 20 broadcast markets in the country, and is the preferred choice for Satellite Media Tour and Video News Release Distribution. For more information or to catch all the segments from the June show, visit http://newswatchtv.com.
NewsWatch airs monthly on the History Channel at 6:00 – 6:30 AM ET/PT and on the Bio Channel from 7:00 – 7:30 AM ET.