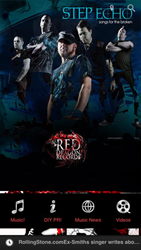 Mimir Music is the premiere app for musicians and music lovers.
Washington, DC (PRWEB) June 12, 2014
"Mimir Music", an application for musicians and music lovers, was featured on NewsWatch as part of its monthly Appwatch segment that took a look at the coolest and most exciting mobile applications available for iOS, Android, and Windows mobile devices. Andrew Tropeano, a host of the show and mobile expert, conducted the review and shared with viewers how it helps musicians get airplay and helps music lovers stay up to date on the latest hits and trends.
In the past decade, there's been an explosion of independent artists releasing high quality music. Part of that has to do with everyday people having access to recording and editing equipment. But another reason is the increase in networks and mobile applications like Mimir Music, a free app by Red Dragon Records.
Mimir Music gives musicians access to thousands of contacts for radio and internet stations, as well as music blogs, RSS feeds, Google feeds, and twitter handles. The contacts in the app help musicians submit their music to a real person that may air it in front of thousands of listeners. The feeds not only keep musicians and music lovers up to date on trends in the industry, but it also has gigs and job opportunities.
Mimir Music is also designed for music lovers and enthusiasts that want to listen to radio stations or follow the latest music news and trends. With hundreds of stations and blogs to choose and listen to, the options are limitless.
It's a very unique app that helps musician get their work out, and helps music lovers hear that work.
It's available for free for iOS and Android devices. Just head to your appstore and search "Mimir Music" to download it or visit https://itunes.apple.com/us/app/mimir-music/id710915955?mt=8.
About NewsWatch
NewsWatch is a weekly 30-minute consumer oriented television show that airs monthly on the History Channel and Biography Channel, and weekly on the ION Network. NewsWatch regularly features top technology products, unique and beautiful travel destinations, health tips, medical breakthroughs, and entertainment news on the show. A recent addition to NewsWatch, AppWatch is a weekly segment that provides viewers app reviews and game reviews of the latest and hottest apps and games out on the market for iOS and Android devices.
The show airs in 180 markets nationwide as well as all of the top 20 broadcast markets in the country, and is the preferred choice for Satellite Media Tour and Video News Release Distribution. NewsWatch airs monthly on the History Channel at 6:00 – 6:30 AM ET/PT and on the Bio Channel from 7:00 – 7:30 AM ET.
For more information or to watch the latest reviews featured on the show, head to http://www.NewsWatchTV.com.