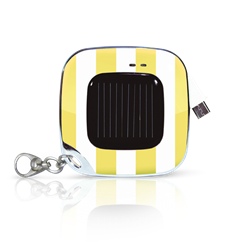 Great for any woman that wants to extend the life of their battery!
Washington, DC (PRWEB) March 25, 2014
The "Mixbin" Mobile Phone Charging Line was featured on NewsWatch as part of its 2014 Consumer Electronic Show Wrap Up, which took a look at the latest and coolest technology showcased at the trade show. Scott Steinberg, a guest host of NewsWatch and technology expert, conducted the product review and shared with viewers how the chargers are fashion-focused phone chargers aimed at women.
MixBin launched two fashion-focused phone chargers aimed at women, each available in 4 different colors. The Sweetheart charger comes in a heart shape and provides an additional boost to a phone's battery life. The second is the "Hello, Sunshine!" solar charger. This charger has a solar panel for women that want to grab some extra juice while they're outside at a soccer game or on the beach.
Both chargers rely on the simple premise that technology does not need to be complicated. Simply plug it into a phone, and begin charging.
The keychain makes both chargers great for any woman on the go. Each give a phone battery a 25% boost, can recharge within an hour, and hold a charge on standby for up to 60 days. They're simple and effective at keeping a phone alive.
The Sweetheart charger and the Hello, Sunshine! solar charger each cost under $40.00.
To learn more about mobile phone chargers and other fashion-forward tech products by MixBin, visit http://www.getmixbin.com today.
About NewsWatch
NewsWatch is a weekly 30-minute consumer oriented television show that airs monthly on the History Channel and weekly on the ION Network. NewsWatch regularly features top technology products, unique and beautiful travel destinations, health tips, medical breakthroughs, and entertainment news on the show. A recent addition to NewsWatch, AppWatch is a weekly segment that provides viewers app reviews and game reviews of the latest and hottest apps and games out on the market for iOS and Android devices.
The show airs in 180 markets nationwide as well as all of the top 20 broadcast markets in the country, and is the preferred choice for Satellite Media Tour and Video News Release Distribution.
For more information or to catch all the products reviewed at the 2014 Consumer Electronics Show, visit http://newswatchtv.com/ces-2014.html.