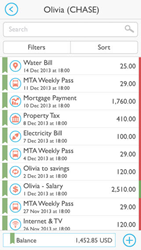 MoneyWiz is a great finance tool for managing your money. Definitely a must-have for anyone serious about their finances!
Washington, DC (PRWEB) April 13, 2014
"Moneywiz" a mobile finance management application was featured on NewsWatch as part of its popular segment, AppWatch, that takes a look at the latest and coolest mobile applications and services on the iOS, Android, and Windows market. Andrew Tropeano, the host of AppWatch, conducted the app review and shared with viewers how it instantly uploads photos to an album as they're taken.
Many of the top reasons why people get into financial debt or financial trouble involve poor money management. Not knowing where your money is being spent and which card or account has money flowing from it can be a major financial issue.
MoneyWiz lets users put all of their purchases, deposits, and bills into one place, so they have a holistic view of their finances. And users can download the app on more than one device and the data is synched across them all over the cloud – something no other financial app does.
Inputting the financial data is easy and secure – because users are not automatically downloading it from the internet, they don't have to worry about security, and inputting it manually also gives them a stronger understanding of your finances. With the app, users can also schedule credit card payments and receive reports that break down their finances for a more micro view. The app is incredibly easy to use with a great user interface and can be used for any currency in the world, from the Chinese yuan to the American dollar.
To download or to learn more, search MoneyWiz in the appstore or visit https://itunes.apple.com/us/app/moneywiz-personal-finance/id452621456?mt=8.
About NewsWatch
NewsWatch is a weekly 30-minute consumer oriented television show that airs monthly on the History Channel and Biography Channel, and weekly on the ION Network. NewsWatch regularly features top technology products, unique and beautiful travel destinations, health tips, medical breakthroughs, and entertainment news on the show. A recent addition to NewsWatch, AppWatch is a weekly segment that provides viewers app reviews and game reviews of the latest and hottest apps and games out on the market for iOS and Android devices.
The show airs in 180 markets nationwide as well as all of the top 20 broadcast markets in the country, and is the preferred choice for Satellite Media Tour and Video News Release Distribution.
For more information or to watch the latest app reviews featured on the show, head to http://www.NewsWatchTV.com/appwatch.html.