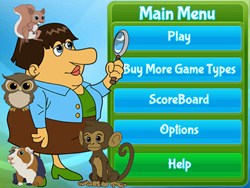 My Dear Aunt Sally combines the humor that makes Angry Birds so enjoyable with a real educational component.
Washington, DC (PRWEB) July 26, 2013
"My Dear Aunt Sally" was featured on NewsWatch as part of its popular segment, AppWatch, that takes a look at the latest and coolest mobile applications and mobile services on the market. Andrew Tropeano, host of AppWatch, shared with viewers how the app can help children strengthen their math and problem solving skills.
My Dear Aunt Sally is an educational application for android and apple devices. The name, My Dear Aunt Sally, is a word play on the well-known mnemonic device 'please excuse my dear aunt sally' that helps students remember the mathematical order of operations – parentheses, exponents, multiplication, division, addition, subtraction.
The goal of the app is to help strengthen math skills among children by getting them to create an equation circle where the numbers on the top and bottom equal each other. Students can practice addition, subtraction, multiplication, division, and exponents, and because there are multiple levels of difficulty, the game is suitable for students from second grade through eighth grade.
Game players are rewarded with humorous videos that feature 'Aunt Sally' in precarious situations. The game is great for reinforcing number sense, order of operations, and problem solving. For parents that want to strengthen their child's math skills with a fun and educational app, head to the iTunes store or the Google Play store and search for My Dear Aunt Sally. More information is available at http://www.mydearauntsally.com
NewsWatch is a weekly 30-minute consumer oriented television show that airs monthly on the History Channel and weekly on the ION Network. NewsWatch regularly features top technology products, unique and beautiful travel destinations, health tips, medical breakthroughs, and entertainment news on the show. A recent addition to NewsWatch, AppWatch is a weekly segment that provides viewers app reviews and game reviews of the latest and hottest apps and games out on the market for iOS and Android devices.
The show airs in 180 markets nationwide as well as all of the top 20 broadcast markets in the country, and is the preferred choice for Satellite Media Tour and Video News Release Distribution.
For more information or to watch the latest app reviews featured on the show, head to http://www.NewsWatchTV.com/appwatch.html.