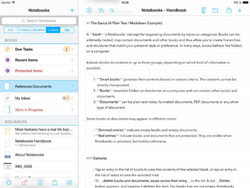 Notebooks 7 is the ultimate note taking app. A must have!
Washington, DC (PRWEB) May 04, 2014
"Notebooks 7", a note taking and organizational application was featured on NewsWatch as part of its popular segment, AppWatch, that takes a look at the latest and coolest mobile applications and services on the iOS, Android, and Windows market. Andrew Tropeano, the host of AppWatch, conducted the app review and shared with viewers how it's one of the best note taking apps on the market.
Our tablets and phones are with consumers constantly. Throughout the day, consumers have thoughts, to-do's, and notes that need to be jotted down. As such, most mobile device users are downloading note taking apps.
NewsWatch Television recommend Notebooks 7 for iOS device. Not only is it an easy way to organize and store notes and tasks, but it also serves as the perfect document manager.
There are three key functions of the app. The first is the ability to create and format documents and notes. Users can create beautiful documents that match their styles and needs. Users can save them in formats like .pdf, .html, or even as an e-book.
Next key area is the task manager. When users create a document, they can turn it into a list of to-do's. Each to-do can have sub to-do's. It's a very sophisticated option that is reason alone for giving the app a try.
Finally, there's the document and file management function, which allows users to import any type of document, turning the app into their own personal knowledge basket. Users can sync all their documents with their computer using Dropbox or a similar service.
Notebooks 7 is currently available for iOS devices for $9.99, versions for Mac and PC will be available soon. To learn more, visit https://itunes.apple.com/us/app/notebooks-7/id780438662?mt=8.
About NewsWatch
NewsWatch is a weekly 30-minute consumer oriented television show that airs monthly on the History Channel and Biography Channel, and weekly on the ION Network. NewsWatch regularly features top technology products, unique and beautiful travel destinations, health tips, medical breakthroughs, and entertainment news on the show. A recent addition to NewsWatch, AppWatch is a weekly segment that provides viewers app reviews and game reviews of the latest and hottest apps and games out on the market for iOS and Android devices.
The show airs in 180 markets nationwide as well as all of the top 20 broadcast markets in the country, and is the preferred choice for Satellite Media Tour and Video News Release Distribution.
For more information or to watch the latest app reviews featured on the show, head to http://www.NewsWatchTV.com/appwatch.html.