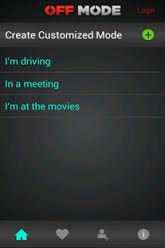 It's a great app that takes the temptation out of picking up a phone or texting when you shouldn't be doing it!
Washington, DC (PRWEB) October 01, 2013
"Off Mode" was featured on NewsWatch as part of its popular segment, AppWatch, that takes a look at the latest and coolest mobile applications and services on the iOS and Android market. Andrew Tropeano, host of AppWatch, conducted the app review and shared with viewers how it can help users block incoming calls, texts, and emails when they're busy.
Texting and driving is illegal across the country, with 41 states and the District of Columbia, passing anti-texting laws. According to the website, Texting and Driving Safety, drivers are 23 times more likely to get in an accident when you're texting and driving. To make sure cell phone users aren't tempted to quickly respond to a text while driving, a new free app called Off-Mode hit the android market. Once turned on, any call or text receieved will be responded to immediately by a preset text. While it's on, the phone is essentially in airplane mode – meaning no texts or phone calls come through, except for calls or texts from predetermined numbers. Once the app is disabled, users get all the notifications from the missed calls and texts. Off-Mode is essentially an automated personal secretary. Off-Mode has a certified mode, where users can prove they weren't able to receive a text or call while operating a vehicle.
The app is not just for driving but also for social scenes and etiquette - users can use off-mode for meetings, for going to the gym, seeing a movie, or having dinner with the family. It's also great for parents to make sure their kids are on off-mode at school or while doing homework.
To download Off-Mode or to learn more about it, head to http://www.offmodeapp.com or search for it in the Google play store today.
NewsWatch is a weekly 30-minute consumer oriented television show that airs monthly on the History Channel and weekly on the ION Network. NewsWatch regularly features top technology products, unique and beautiful travel destinations, health tips, medical breakthroughs, and entertainment news on the show. A recent addition to NewsWatch, AppWatch is a weekly segment that provides viewers app reviews and game reviews of the latest and hottest apps and games out on the market for iOS and Android devices.
The show airs in 180 markets nationwide as well as all of the top 20 broadcast markets in the country, and is the preferred choice for Satellite Media Tour and Video News Release Distribution.