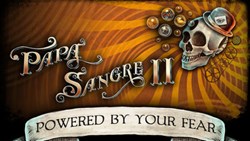 Papa Sangre II is the most unique game we've come across and it's available for iOS devices!
Washington, DC (PRWEB) January 17, 2014
"Papa Sangre II", a mobile game was featured on NewsWatch as part of its popular segment, AppWatch, that takes a look at the latest and coolest mobile applications and services on the iOS, Android, and Windows market. Andrew Tropeano, host of AppWatch, conducted the app review and shared with viewers how the game is unlike any other on the market today.
Almost every mobile game on the market puts an emphasis on building visually exciting play. But what happens when app designers remove the visuals and immerse a player in high end 3D audio instead? There isn't a single application out there that can compete with a player's creative mind, so they end up with something completely unique. That's exactly what users get when they play Papa Sangre II, a game that starts where most other games end, death.
To play the game, users need to plug in headphones, close their eyes, and hold the iPhone or iPad in their hand. In complete darkness, they'll run away from monsters, shoot ducks, gather memories of other deceased spirits, and claw their way back from death to the land of the living. The game play is guided by the iconic voice of actor Sean Bean.
Papa Sangre II uses the phone's gyroscope to move about in the darkness. So as the player turns, they experience the game's environment through sounds. It's one of the most unique games available for iOS devices. It also has the highest average review rating of all iOS games launched in 2013.
To learn more about the game or to download it, visit http://www.papasangre.com or search for it on the iTunes store.
About NewsWatch
NewsWatch is a weekly 30-minute consumer oriented television show that airs monthly on the History Channel and weekly on the ION Network. NewsWatch regularly features top technology products, unique and beautiful travel destinations, health tips, medical breakthroughs, and entertainment news on the show. A recent addition to NewsWatch, AppWatch is a weekly segment that provides viewers app reviews and game reviews of the latest and hottest apps and games out on the market for iOS and Android devices.
The show airs in 180 markets nationwide as well as all of the top 20 broadcast markets in the country, and is the preferred choice for Satellite Media Tour and Video News Release Distribution.
For more information or to watch the latest app reviews featured on the show, head to http://www.NewsWatchTV.com.