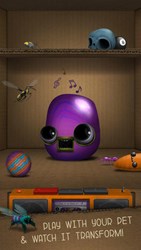 "Pet Peaves Monsters" is fun, visually enjoyable, and kids absolutely love it.
Washington, DC (PRWEB) October 27, 2013
The "Pet Peaves Monsters" mobile game application was featured on NewsWatch as part of its popular segment, AppWatch, that takes a look at the latest and coolest mobile applications and services on the iOS and Android market. Andrew Tropeano, host of AppWatch, conducted the app review and shared with viewers how the game is fun and unique for people of all ages.
Pet Peaves Monsters is a game where users buy pets and take care of them, investing time in raising, feeding, and playing with them until they're grown up. Every "peave" is slightly different, from a dragon to an insect to an abominable snowman, users never know what their pet is going to turn into.
Once the "peave" grown up, they battle other peaves by jumping from one mobile screen to another screen to take on the other user's pet. For consumers that don't have someone with the application, they can also battle on their own. As they prep for a battle, users feed their "peave" mushrooms acquired with coins from winning other battles. The mushrooms give the "peave" special powers like fireballs, ice breath, and gigantic growth powers.
"Pet Peaves Monsters" is fun, visually enjoyable, and kids absolutely love it. A free Halloween edition is coming in time for the holiday, so download it and watch for the update. To get it now or to learn more, head to http://www.petpeaves.com.
NewsWatch is a weekly 30-minute consumer oriented television show that airs monthly on the History Channel and weekly on the ION Network. NewsWatch regularly features top technology products, unique and beautiful travel destinations, health tips, medical breakthroughs, and entertainment news on the show. A recent addition to NewsWatch, AppWatch is a weekly segment that provides viewers app reviews and game reviews of the latest and hottest apps and games out on the market for iOS and Android devices.
The show airs in 180 markets nationwide as well as all of the top 20 broadcast markets in the country, and is the preferred choice for Satellite Media Tour and Video News Release Distribution.
For more information or to watch the latest app reviews featured on the show, head to http://www.NewsWatchTV.com/appwatch.html.