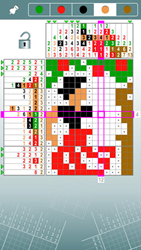 Pic-a-Pix is a challenging and fun app for adults and children of all ages! We love it!
Washington, DC (PRWEB) April 06, 2014
"Pic-A-Pix", a mobile puzzle and gaming application by Conceptis Puzzles featured on NewsWatch as part of its popular segment, AppWatch, that takes a look at the latest and coolest mobile applications and services on the iOS, Android, and Windows market. Andrew Tropeano, the host of AppWatch, conducted the app review and shared with viewers how the game is fun and challenging.
There are hundreds of mobile games on the market that rely on graphics and tiles to keep a user's attention. While there's nothing wrong with those games, there's something to be said about a game that keeps a user's attention without a graphic crutch.
Pic-a-Pix by Conceptis Puzzles is a game that is simple and straight-forward but challenging and addictive. Once it's downloaded on the phone or tablet, users are presented with a white grid with clues on the left side of every row and on the top of every column. They must take those clues and fill in blocks in each column and row so their length and sequence corresponds with the clues, revealing a hidden picture once the puzzle is completed.
One key to playing is with both black and white and color puzzles, users need at least one empty square between adjacent same-color blocks. Once they've got that down, they'll start flying through the puzzles, revealing faces and animals and objects.
Pic-A-Pix a very challenging but enjoyable game that's free to download on iOS devices by searching "Pic-a-Pix" in the apstore. To learn more, head to http://www.conceptispuzzles.com.
About NewsWatch
NewsWatch is a weekly 30-minute consumer oriented television show that airs monthly on the History Channel and Biography Channel, and weekly on the ION Network. NewsWatch regularly features top technology products, unique and beautiful travel destinations, health tips, medical breakthroughs, and entertainment news on the show. A recent addition to NewsWatch, AppWatch is a weekly segment that provides viewers app reviews and game reviews of the latest and hottest apps and games out on the market for iOS and Android devices.
The show airs in 180 markets nationwide as well as all of the top 20 broadcast markets in the country, and is the preferred choice for Satellite Media Tour and Video News Release Distribution.
For more information or to watch the latest app reviews featured on the show, head to http://www.NewsWatchTV.com/appwatch.html.