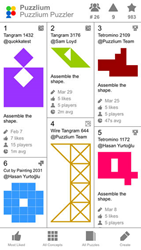 Puzzlium is a great way to exercise your brain! It's fun and addictive!
Washigton, DC (PRWEB) July 15, 2014
"Puzzlium" was featured on NewsWatch as part of its monthly AppWatch, which takes a look at the latest and coolest mobile applications on the iOS, Android, and Windows market. Andrew Tropeano, a host of NewsWatch AppWatch and mobile technology expert, conducted the app review and shared with viewers how it's a fun and addictive way to exercise the brain.
While it's important to get a good sweat at the gym, it's equally important to exercise the brain. An easy and fun way to do that is with puzzles.
Puzzlium is a free iOS app with thousands of puzzles created by other users. There are three types of puzzles in the app. Tangram has seven pieces players have to fit into a shaded shape. Tetromino puzzles have five pieces that players have to fit into a shaded shape. Cut by Painting has a shaded shape that users must cut into identical parts by assigning boxes with colors.
All the puzzles on Puzzlium were made by other users. Users can create their own puzzles and publish them on the app to get more stars, which is the app currency. When the app is opened for the first time, users receive 1,000 stars. Each time a user begins a puzzle, they spend 5 stars. When it's solved, they are rewarded with three stars. When a user shares a puzzle, they receive one star. If they create a puzzle, they receive stars when it's played.
To download Puzzlium for free on an iPhone or iPad, visit http://www.puzzlium.com.
About NewsWatch
NewsWatch is a weekly 30-minute consumer oriented television show that also airs monthly on the History Channel, Bio Channel, and ION Network. NewsWatch regularly features top technology products, unique and beautiful travel destinations, health tips, medical breakthroughs, and entertainment news on the show.
A recent addition, NewsWatch AppWatch is a weekly segment that provides viewers app reviews and game reviews of the latest and hottest apps and games on the market for iOS, Android, Windows, and other devices.
NewsWatch airs in 180 markets nationwide as well as all of the top 20 broadcast markets in the country, and is the preferred choice for Satellite Media Tour and Video News Release Distribution. For more information or to watch the July 2014 show, visit http://newswatchtv.com/appwatch.html.
NewsWatch airs on the History Channel at 6:00 – 6:30 AM ET/PT and on the FYI Network from 7:00 – 7:30 AM ET.