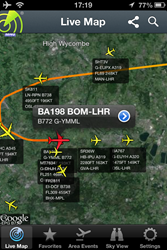 Radarbox24 gives you real time flight data. It's great!
Washington, DC (PRWEB) December 14, 2013
The "Radarbox24" mobile application was featured on NewsWatch as part of its popular segment, AppWatch, that takes a look at the latest and coolest mobile applications and services on the iOS, Android, and Windows market. Andrew Tropeano, host of AppWatch, conducted the app review and shared with viewers how the app gives users access to real-time flight data coming directly from aircraft transponders.
According to the National Air Traffic Controllers Association, there are over 87 thousand flights that crisscross the United States everyday. For the millions of aviation fans and users of flight tracking websites, RadarBox24 has created the most powerful airplane tracking app on the market.
Once users have downloaded the app on their iPhone or iPad, they have access to real-time flight data coming directly from aircraft transponders. They can search for any flight, city, or airport, and get realtime data on arrival and departure times, exact locations, and even what runway and gate they'll be using. The app provides this exact information because it works off a network of receivers all over the world that connect directly with airplanes as they pass overhead.
One unique feature called skyview allows users to point their phone at any flight passing overhead and get instant information on it. Radarbox24 is available for iOS devices, but can also be accessed on the web. It costs $4.99 to download and is free online.
To learn more, visit http://www.radarbox24.com.
About NewsWatch
NewsWatch is a weekly 30-minute consumer oriented television show that airs monthly on the History Channel and weekly on the ION Network. NewsWatch regularly features top technology products, unique and beautiful travel destinations, health tips, medical breakthroughs, and entertainment news on the show. A recent addition to NewsWatch, AppWatch is a weekly segment that provides viewers app reviews and game reviews of the latest and hottest apps and games out on the market for iOS and Android devices.
The show airs in 180 markets nationwide as well as all of the top 20 broadcast markets in the country, and is the preferred choice for Satellite Media Tour and Video News Release Distribution.
For more information or to watch the latest app reviews featured on the show, head to http://www.NewsWatchTV.com/appwatch.html.