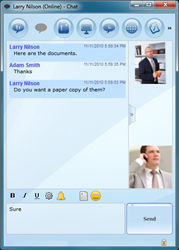 Washington, DC (PRWEB) October 18, 2014
"Brosix" was featured on NewsWatch as part of its monthly Biz Report, which takes a look small, medium, and large businesses making an impact in their industry. Mallory Sofastaii, a reporter for NewsWatch and a business expert, conducted the business review and shared with viewers how they're similar to popular social media sites but more secure for businesses.
Brosix is a secure platform built to increase a company's productivity and communication – all built on the instant messenger concept. In light of the recent hacks to iCloud and other secure networks, NewsWatch highlighted them for businesses looking to add an additional layer of security to their communication tools.
Free communication tools such as Skype, AIM, ICQ, and Yahoo are used in many businesses. While they're relatively fine for personal use, they're highly risky for corporate communications. Brosix functions in a similar fashion to popular social tools but is a highly secure communication messenger that encrypts all the traffic with 256-bit key. Instant messages, File Transfers, Voice Chats, Video Chats, and screens are all encrypted and only the recipient users can decrypt and use or see them.
The platform also works across virtually any computing platform and comes in multiple languages to help diverse cultures work together. The UI is simple, it's effective, and easy to implement within a business.
In a constantly insecure digital world, keeping your business protected is essential to success. To learn more about Brosix, visit http://www.Brosix.com.
About NewsWatch
NewsWatch is a weekly 30-minute consumer oriented television show that airs on the History Channel, FYI Network, and ION Network. NewsWatch regularly features top technology products and services, mobile applications for iOS, Android, and Windows devices, unique and beautiful travel destinations around the world, health and medical tips, and entertainment interviews on the show. NewsWatch airs on the History Channel at 6:00 – 6:30 AM ET/PT and on the FYI Network from 7:00 – 7:30 AM ET.
NewsWatch is located in the greater Washington, DC area and has been on air for over 25 years. For more information or to watch the most recent episode, visit http://newswatchtv.com.