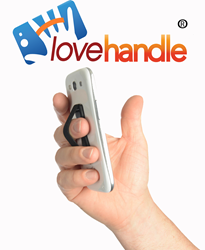 (PRWEB) October 26, 2014
The "LoveHandle" was featured on NewsWatch as part of its monthly Tech Report, which features the latest and coolest technology products and services available to consumers. Mallory Sofastaii, a technology expert and technology reporter for NewsWatch, conducted the product review and shared with viewers how it can keep phones off the ground.
According to eMarketer, US adults spend an average of 3 hours per day operating a mobile device, and that doesn't include talking. Whether browsing websites, typing away on social media, or playing a game, hands and fingers can get exhausted, increasing the chances of a dropped phone. There are a few options out there to keep phones off the ground, but NewsWatch recommended on October 16th the LoveHandle.
The LoveHandle is a three inch elastic handle with a 3M adhesive back that can stick onto any device. Because of its slim design, the handle stays close to the device so there's no issue going in and out of a pocket or purse. The adhesive is strong but doesn't leave residue on a phone if removed; and it can even flip it around into a hands-free position.
The Love Handle comes in eight colors so users can add flair to their handheld device as well.
To learn more or to purchase a handle, visit http://www.lovehandle.com.
About NewsWatch
NewsWatch is a weekly 30-minute consumer oriented television show that airs on the History Channel, FYI Network, and ION Network. NewsWatch regularly features top technology products and services, mobile applications for iOS, Android, and Windows devices, unique and beautiful travel destinations around the world, health and medical tips, and entertainment interviews on the show. NewsWatch airs on the History Channel at 6:00 – 6:30 AM ET/PT and on the FYI Network from 7:00 – 7:30 AM ET.
NewsWatch is located in the greater Washington, DC area and has been on air for over 25 years. For more information or to watch the most recent episode, visit http://newswatchtv.com/appwatch.html.