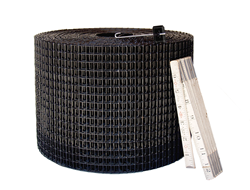 Washington, DC (PRWEB) October 28, 2014
"Spiffy Solar" was featured on NewsWatch as part of its monthly Consumer Report, which features the latest and coolest consumer oriented products on the market. Mallory Sofastaii, a mobile technology expert and host of NewsWatch, conducted the product review and shared with consumers how it's protects the solar panel investment while keeping pests out.
According to the US Department of Energy, starting in 2007, solar power has been one of the fastest growing new energy resources for consumers around the globe. Surprisingly, the United States is one of the leaders in solar installations.
What consumers don't know is that solar panels can be prime real estate for pigeon nests and squirrels. Not only do they cause a mess on a home's roof, but they can also damage panel equipment and wiring. Many contractors install screen to keep them out by drilling directly into the panels, which voids the warranty. Users who want to protect their investment while also keeping pests out should check out Spiffy Solar.
Spiffy Solar has created two products that are easy to install and cost-friendly. There's the PVC coated wire mesh and the spiffy clip. The clip has an interesting design that makes it durable and easy to install – plus consumers don't need to do any drilling or structural changes. The mesh is made out of high quality PVC-coated wire mesh that'll stand up to nearly any weather condition. The two are both black, so they don't stand out on residential roofs.
To learn more, visit http://www.spiffysolar.com.
About NewsWatch
NewsWatch is a weekly 30-minute consumer oriented television show that airs on the History Channel, FYI Network, and ION Network. NewsWatch regularly features top technology products and services, mobile applications for iOS, Android, and Windows devices, unique and beautiful travel destinations around the world, health and medical tips, and entertainment interviews on the show. NewsWatch airs on the History Channel at 6:00 – 6:30 AM ET/PT and on the FYI Network from 7:00 – 7:30 AM ET.
NewsWatch is located in the greater Washington, DC area and has been on air for over 25 years. For more information or to watch the most recent episode, visit http://newswatchtv.com.