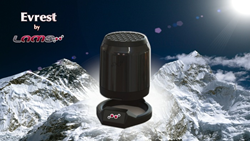 Washington, DC (PRWEB) October 31, 2014
The "Evrest" and "Aspyn" were featured on NewsWatch as part of its monthly HealthWatch, which features the latest and coolest health products and services available to consumers. Susan Bridges, a health and technology expert and host of NewsWatch, conducted the product reviews and shared with viewers how they produce Dilute Hydrogen Peroxide from the air, keeping homes clean and safe from bacteria and other harmful substances.
A consumer's home is their sanctuary. Unfortunately, it's a haven for bacteria, germs, viruses, and mold. Dilute Hydrogen Peroxide, a natural germ fighter that's produced in human lungs, can quickly and efficiently kill these household issues.
Dilute Hydrogen Peroxide can now be generated by two products, the Evrest and the Aspyn. These two new home products safely produce Dilute Hydrogen Peroxide from the air itself, keeping homes and every object in them virtually free from bacteria, germs, viruses, and mold.
"It will disinfect their homes and basement. It will eliminate and prevent mold from growing in your basement, their attics, etcetera. It will also disinfect and purify the air," said Douglas Bosma, Senior VP of LAMS. "Essentially all you do is plug it in, simply turn it on, put the filter pack in and then you put the catalyst on the top of the device. And then the device starts doing all the work for you. It's essentially a set-it-and-forget-it device."
Both the Evrest and the Aspyn are available for presale on Kickstarter.com. To learn more or purchase one, head to Kickstarter and search "Evrest" or "Aspyn" today or visit https://www.kickstarter.com/projects/1689362753/aspyn-evrest-bacteria-germs-and-mold-up-to-99999-g.
About NewsWatch
NewsWatch is a weekly 30-minute consumer oriented television show that airs on the History Channel, FYI Network, and ION Network. NewsWatch regularly features top technology products and services, mobile applications for iOS, Android, and Windows devices, unique and beautiful travel destinations around the world, health and medical tips, and entertainment interviews on the show. NewsWatch airs on the History Channel at 6:00 – 6:30 AM ET/PT and on the FYI Network from 7:00 – 7:30 AM ET.
NewsWatch is located in the greater Washington, DC area and has been on air for over 25 years. For more information or to watch the most recent episode, visit http://newswatchtv.com.