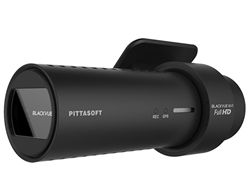 Washington, DC (PRWEB) November 23, 2014
"BlackVue" was featured on NewsWatch as part of its monthly Tech Report, which features the latest and coolest technology products available to consumers. Mallory Sofastaii, a technology expert and reporter for NewsWatch, conducted the product review and shared with viewers how their latest cameras are unique and powerful options in the car camera industry.
The need for in-car video cameras is rising and it can be hard to find the one that's right per consumer, especially considering all the different options out there.
BlackVue is one of the leaders in the field and they've recently come out with the 600 and 650 series in-car cameras. The 600 series is a full HD front facing video camera and the 650 has the same front camera but also comes with a rear facing camera.
What makes these cameras unique is that they can connect over wifi to a phone through the BlackVu app, meaning that it's easy to access and transfer video to a smartphone or tablet. The front and rear camera are in full 1080 HD and they support a 64 GB Memory card.
To learn more, visit http://www.blackvue.com today.
About NewsWatch
NewsWatch is a weekly 30-minute consumer oriented television show that airs on the History Channel, FYI Network, and ION Network. NewsWatch regularly features top technology products and services, mobile applications for iOS, Android, and Windows devices, unique and beautiful travel destinations around the world, health and medical tips, and entertainment interviews on the show. NewsWatch airs on the History Channel at 6:00 – 6:30 AM ET/PT and on the FYI Network from 7:00 – 7:30 AM ET.
NewsWatch is located in the greater Washington, DC area and has been on air for over 25 years. For more information or to watch the most recent episode, visit http://newswatchtv.com/tech-report.html.