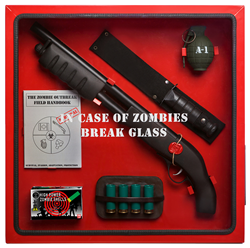 (PRWEB) November 30, 2014
"In Case Of" was featured on NewsWatch as part of its monthly Tech Report, which features the latest and coolest technology products available to consumers. Mallory Sofastaii, a technology expert and reporter for NewsWatch, conducted the product review and shared with viewers how they are hand crafted cabinets to prepare for zombies, werewolves, vampires, and demons.
Halloween may be over but the love and fascination for the supernatural lives on. And just because the spooking season is over, people still need to prepare for a Zombie Apocalypse or a vampire encounter.
In Case Of have hand crafted cabinets for four scenarios that are inevitably going to occur. They have prepared cabinets to handle Zombies, Vampires, Werewolves and Demons. The Zombie cabinet comes with a 12 gauge short barrel shotgun, with accompanying shells, a hunting knife, a hand grenade, and a zombie outbreak field handbook. And the vampire cabinet comes with the tools to slay camps: vampire stakes, heavy duty hammer, large metal cross, holy water, garlic and a vampire survival guide. These items aren't actually operational, but they're a great display and conversation piece.
These cabinets are crafted, painted, and finished by hand. They are limited edition and they come with a serial number and certificate of authenticity. The price is $188 after a 25% discount per cabinet.
To learn more, visit http://www.in-case-of.com.
About NewsWatch
NewsWatch is a weekly 30-minute consumer oriented television show that airs on the History Channel, FYI Network, and ION Network. NewsWatch regularly features top technology products and services, mobile applications for iOS, Android, and Windows devices, unique and beautiful travel destinations around the world, health and medical tips, and entertainment interviews on the show. NewsWatch airs on the History Channel at 6:00 – 6:30 AM ET/PT and on the FYI Network from 7:00 – 7:30 AM ET.
NewsWatch is located in the greater Washington, DC area and has been on air for over 25 years. For more information or to watch the most recent episode, visit http://newswatchtv.com/tech-report.html.