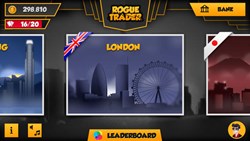 Rogue Trader is a fun game that I loved playing around with at the show
Washington, DC (PRWEB) February 14, 2014
"Rogue Trader", a fun mobile gaming application was featured on NewsWatch as part of its popular segment, AppWatch, that takes a look at the latest and coolest mobile applications and services on the iOS, Android, and Windows market. Andrew Tropeano, the host of AppWatch, conducted the app review and shared with viewers how gamers can simulate stock trading while playing the game.
2013 was a historic year for investors with the S&P 500 up 29 precent and the Dow up 26 percent, their best since 1997 and 1996 respectively. For mobile game fans looking to keep up the fun and play a game of stock trading on their iOS device, Rogue Trader is a free app created by Ace-Spier, a creative studio out of London.
In the game, players are a young trader who was hired by a trading company. They're guided through the game by their new boss as they begin trading in Frankfurt and eventually work their way up to the New York Stock Exchange. Users have to win trades and turn a profit to succeed.
Similar to real stock trading, as the stock prices go up and down, buying and selling at the right times is the challenge. The more a player wins, the quicker they advance. As a user plays, they collect powerup cards that help trade faster, increase stamina, or multiply points.
To give Rogue Trader a try, visit http://www.getrogue.com or search for "Rogue Trader" in the app store.
About NewsWatch
NewsWatch is a weekly 30-minute consumer oriented television show that airs monthly on the History Channel and Biography Channel, and weekly on the ION Network. NewsWatch regularly features top technology products, unique and beautiful travel destinations, health tips, medical breakthroughs, and entertainment news on the show. A recent addition to NewsWatch, AppWatch is a weekly segment that provides viewers app reviews and game reviews of the latest and hottest apps and games out on the market for iOS and Android devices.
The show airs in 180 markets nationwide as well as all of the top 20 broadcast markets in the country, and is the preferred choice for Satellite Media Tour and Video News Release Distribution.
For more information or to watch the latest app reviews featured on the show, head to http://www.NewsWatchTV.com/appwatch.html.