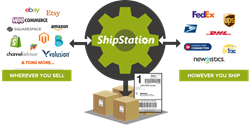 ShipStation helps any business owner increase their shipping efficiency and get back to doing the things they love!
Washington, DC (PRWEB) June 08, 2014
"ShipStation", a web platform for small, medium, and large businesses, was featured on NewsWatch as part of its 2014 South By SouthWest Wrap Up that took a look at the coolest and most exciting exhibitors of the show. Andrew Tropeano, a host of the show and technology expert, conducted the review and shared with viewers how it helps businesses owners increase their shipping efficiency.
From a wife and husband team to a large company, anyone that sells products has to worry about shipping. Especially in a culture that's grown accustomed to 2 day delivery.
Shipstation is a web-based solution, based in Austin, Texas that helps online retailers fulfill orders in the most efficient way possible. Because it's a web based program, there are no downloads and it's easily accessible from anywhere. The platform allows users to quickly connect to all the places they sell and to the ways in which they ship. To bring efficiency to the next level, Shipstation allows users to setup automated processes that reduce handling time and optimizes the entire flow from order import to shipping.
When shipping and order processing takes up less time, business owners can focus more on the things they love.
ShipStation is also affordable as well. They offer monthly subscriptions that range from twenty-five dollars to one hundred and forty-five dollars a month. To learn more, head to http://www.shipstation.com.
About NewsWatch
NewsWatch is a weekly 30-minute consumer oriented television show that airs monthly on the History Channel and Biography Channel, and weekly on the ION Network. NewsWatch regularly features top technology products, unique and beautiful travel destinations, health tips, medical breakthroughs, and entertainment news on the show. A recent addition to NewsWatch, AppWatch is a weekly segment that provides viewers app reviews and game reviews of the latest and hottest apps and games out on the market for iOS and Android devices.
The show airs in 180 markets nationwide as well as all of the top 20 broadcast markets in the country, and is the preferred choice for Satellite Media Tour and Video News Release Distribution. NewsWatch airs monthly on the History Channel at 6:00 – 6:30 AM ET/PT and on the Bio Channel from 7:00 – 7:30 AM ET.
For more information or to watch the latest reviews featured on the show, head to http://www.NewsWatchTV.com.