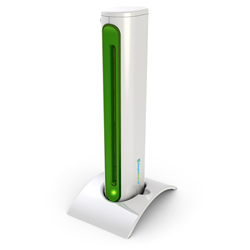 Washington, DC (PRWEB) March 30, 2014
"SimpleScan" by DCT was featured on NewsWatch as part of its 2014 Consumer Electronic Show Wrap Up, which took a look at the latest and coolest technology showcased at the trade show. Scott Steinberg, a guest host of NewsWatch and technology expert, conducted the product review and shared with viewers how the scanner and application increase productivity for personal and business usage.
For anyone who owns a business or works in an office, they know there's no way the company is going completely paperless anytime soon. We work in a digital world, but between contracts, invoices, receipts, and random documents, the office can get filled quickly.
A great organization and productivity device at the 2014 Consumer Electronics Show in the Las Vegas Hotel was SimpleScan by DCT. SimpleScan is a solution that won an Innovations Design and Engineering award and it easily connects any online storage locations like Dropbox, Google Drive, or Evernote. So instead of sharing documents in emails, consumers can share a link instead.
The main goal of this scanner and software is to save time and money for businesses and consumers. SimpleScan can also use other online services to send outgoing faxes, or to electronically process invoices, and it can even handle expense reporting, with new services added regularly. SimpleScanner is a great productivity tool that can fit on a desk, in a bag, or anywhere at home.
To learn more or to purchase one, visit http://www.simplescan.com today.
About NewsWatch
NewsWatch is a weekly 30-minute consumer oriented television show that airs monthly on the History Channel and weekly on the ION Network. NewsWatch regularly features top technology products, unique and beautiful travel destinations, health tips, medical breakthroughs, and entertainment news on the show. A recent addition to NewsWatch, AppWatch is a weekly segment that provides viewers app reviews and game reviews of the latest and hottest apps and games out on the market for iOS and Android devices.
The show airs in 180 markets nationwide as well as all of the top 20 broadcast markets in the country, and is the preferred choice for Satellite Media Tour and Video News Release Distribution.
For more information or to catch all the products reviewed at the 2014 Consumer Electronics Show, visit http://newswatchtv.com/ces-2014.html.