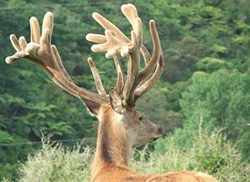 Southern Cross Velvet produces some of the best quality Deer Antler Velvet products in the United States!
Washington, DC (PRWEB) October 12, 2013
"Southern Cross Velvet" was recently featured on NewsWatch as part of its popular segment, Health Watch, that takes a look at the latest medical breakthroughs and products on the market. Andrew Tropeano, host of Health Watch, shared with viewers what deer antler velvet is and the benefits it can provide consumers.
Deer Antler Velvet is a natural product that has been used medicinally for thousands of years and comes from deer antlers removed during the velvet stage. It's loaded with IGF-1 and many more growth hormones, amino acids, and potent anti-inflammatory agents and helps lubricate and repair joints. Taking it has been linked to faster recovery from injuries and workouts, decreased muscle and joint pain, increased mobility, and has helped raise hormone production naturally. Unforuntately there are dozens of companies selling inferior versions, and it's hard to know which is legitimate.
As part of its Health Watch segment, NewsWatch featured Southern Cross Velvet, a company that's been offering deer antler velvet for over 14 years. By comparison, most companies have been in business for under 3 years trying to capitalize on the recent storm of publicity around professional athletes taking the product. Southern Cross Velvet works directly with distributors from New Zealand, a country with high quality products with no cases of wasting disease.
Southern Cross Velvet carries a complete line of deer antler velvet products, from traditional powder to their advanced sublingual delivery systems, deer antler spray and fizz tablets.
To learn more about Southern Cross Velvet or about Deer Antler Velvet, head to http://www.southerncrossvelvet.com.
NewsWatch is a weekly 30-minute consumer oriented television show that airs monthly on the History Channel and weekly on the ION Network. NewsWatch regularly features top technology products, unique and beautiful travel destinations, health tips, medical breakthroughs, and entertainment news on the show. A recent addition to NewsWatch, AppWatch is a weekly segment that provides viewers app reviews and game reviews of the latest and hottest apps and games out on the market for iOS and Android devices.
The show airs in 180 markets nationwide as well as all of the top 20 broadcast markets in the country, and is the preferred choice for Satellite Media Tour and Video News Release Distribution.
For more information or to watch the latest app reviews featured on the show, head to http://www.NewsWatchTV.com/appwatch.html.