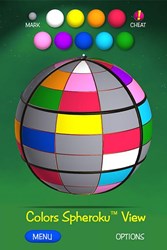 Not only is it fun, but it's mentally challenging and is considered a great brain exercise!
Washington, DC (PRWEB) November 06, 2013
The "Spheroku" mobile game application was featured on NewsWatch as part of its popular segment, AppWatch, that takes a look at the latest and coolest mobile applications and services on the iOS and Android market. Andrew Tropeano, host of AppWatch, conducted the app review and shared with viewers how the game is mentally challenging and fun for people of all ages.
Sudoku is an incredibly popular puzzle game made up of a nine by nine grid. The goal is to fill the grid with digits so that each column, row, and three by three subgrid contains all the digits from 1 to 9. Not only is it fun, but it's mentally challenging and is considered a great brain exercise. For those interested in trying a more unique and fun version of the game, NewsWatch reviewed and recommended "Speroku".
Spheroku employs the same type of strategy of Sudoku, but uses colors and a three dimensional sphere, essentially a combination of Sudoku and the Rubix cube. The gaming application has vertical and horizontal slices with each row and column containing nine elements that need to be filled with one of the nine colors available. Unlike Sudoku, users need to use their memory to complete each level as half the sphere is hidden at all times.
The creator of Spheroku also included the original Sudoku in the app, as well as two combinations, a sphere with numbers and a regular flat grid with colors. The app is free to start with four games, one for each level. Additional packs of 100 games are available for under two dollars. It's available on iOS and Android devices.
To learn more or try Spheroku, visit http://www.spheroku.com.
About NewsWatch
NewsWatch is a weekly 30-minute consumer oriented television show that airs monthly on the History Channel and weekly on the ION Network. NewsWatch regularly features top technology products, unique and beautiful travel destinations, health tips, medical breakthroughs, and entertainment news on the show. A recent addition to NewsWatch, AppWatch is a weekly segment that provides viewers app reviews and game reviews of the latest and hottest apps and games out on the market for iOS and Android devices.
The show airs in 180 markets nationwide as well as all of the top 20 broadcast markets in the country, and is the preferred choice for Satellite Media Tour and Video News Release Distribution.
For more information or to watch the latest app reviews featured on the show, head to http://www.NewsWatchTV.com/appwatch.html.