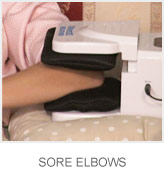 Squeeze Reliever is perfect for anyone with pain in their muscle or joints. Simply amazing!
Washington, DC (PRWEB) May 08, 2014
"Squeeze Reliever," a unique multi-functional compression-therapy pain reliever, was featured on NewsWatch as part of its popular segment, HealthWatch, which took a look at the latest medical products and services available to consumers. Susan Bridges, the host of NewsWatch and a medical expert, conducted the product review and shared with viewers how it immediately sooths pain.
According to a recent issue of Arthritis Care & Research, over half of the women in the United States suffer from a foot disorder, and over 52 million adults in the United States suffer with some form of arthritis. Add in the number of people with carpal tunnel syndrom, and sore muscles and joints, and there's a massive amount of Americans dealing with pain.
Massaging and squeezing the afflicted region helps bring relief. But that can be tiring. Squeeze Reliever is a unique multi-functional compression-therapy pain reliever. It's inflating/deflating air cushion pillows emulate the squeezing action of a hand to immediately sooth the pain. The pillows conform to the afflicted area, and hit the deep joints and muscles. The Squeeze Reliever has adjustable pressure, speed, and vibration settings, so users can decide what type of squeeze is just right.
To learn more, or order one, visit http://www.squeezereliever.com.
About NewsWatch
NewsWatch is a weekly 30-minute consumer oriented television show that airs monthly on the History Channel and Bio Channel, and weekly on the ION Network. NewsWatch regularly features top technology products, iOS and Android app and game reviews, unique and beautiful travel destinations, health tips, medical breakthroughs, and entertainment news on the show. A recent addition to NewsWatch, HealthWatch is a weekly segment that provides viewers health related product and service reviews.
The show airs in 180 markets nationwide as well as all of the top 20 broadcast markets in the country, and is the preferred choice for Satellite Media Tour and Video News Release Distribution.
For more information on HealthWatch or to see other health related product and service reviews by NewsWatch, visit http://www.newswatchtv.com/healthwatch.html.