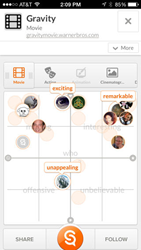 Squerb is one of the more unique social media sites out there. You can accurately express your opinion and see the opinions of people in your network.
Washington, DC (PRWEB) May 29, 2014
"Squerb", a new social media platform, was featured on NewsWatch as part of its 2014 SXSW Wrap Up that took a look at the coolest and most exciting exhibitors of the show. Andrew Tropeano, a host of the show and technology expert, conducted the review and shared with viewers how it gives users a simple, visual way to express their opinion and see other opinions on any topic.
South by Southwest is all about deconstructing traditional tech and reinventing it. That's what a company called Squerb is doing to today's social media. While sites like Facebook let users "like" a movie or article, Squerb lets users express exactly how they feel about it.
Squerb is a simple, visual way for users to express their opinion on any subject, from restaurants and movies to fashion and technology. Those opinions are recorded on a simple visual grid of emotion and intelligence that shows their opinion in comparison to their social network.
It starts with "Who cares" in the center, and the further a user moves from it, the stronger they feel. For each topic, Squerb presents unique aspects. For a movie, the aspects could include acting, writing, and directing. This allows a user to like one aspect but disagree with another.
Used for everything from bookmarking web content, researching opinions or even just self-expression, Squerb pulls instant insight from the chaotic noise of social media.
For more information on this new social media site, visit http://www.squerb.com.
About NewsWatch
NewsWatch is a weekly 30-minute consumer oriented television show that airs monthly on the History Channel and Biography Channel, and weekly on the ION Network. NewsWatch regularly features top technology products, unique and beautiful travel destinations, health tips, medical breakthroughs, and entertainment news on the show. A recent addition to NewsWatch, AppWatch is a weekly segment that provides viewers app reviews and game reviews of the latest and hottest apps and games out on the market for iOS and Android devices.
The show airs in 180 markets nationwide as well as all of the top 20 broadcast markets in the country, and is the preferred choice for Satellite Media Tour and Video News Release Distribution.
For more information or to watch the latest reviews featured on the show, head to http://www.NewsWatchTV.com.