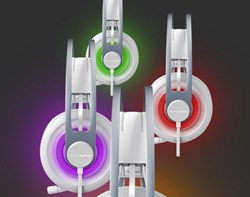 Siberia Elite is really one of the best headsets we've come across!
Washington, DC (PRWEB) December 04, 2013
The "Siberia Elite" headset by Steel Series was featured on NewsWatch as part of its popular segment, Tech Report, that takes a look at the latest and coolest technology products and services on the market available to consumers. Scott Steinberg, a nationally recognized technology expert, conducted the tech review and shared with viewers how the headset can give gamers a leg up on the competition.
Hardcore gamers know that any detail, no matter how minute it is, can give them a leg up on their opponent. Right now, there isn't a better way to take a step ahead of the competition than with a proper headset. They not only help gamers hear the tiniest of details, but they can also bring them closer to the action.
The "Siberia Elite" by SteelSeries is the ultimate headset for gamers. For starters, they're extremely comfortable with extra-large memory foam ear cushions so gamers won't feel the need to take them off after a few hours of play. Secondly, the noise isolation is top class – they can be used anywhere without any sound loss.
Then there's the unique factor. Believe it or not, the earcups radiate up to 16.8 million different color options on the outside. So users are not just stuck with one color, unless they want to be.
Most importantly is the sound quality. Steel Series has managed to build an audio driver into the headset that delivers newer, louder, and more finely tuned audio, all in Dolby 7.1 virtual surround sound. And gamers can connect it to nearly any device platform with their swappable cable system.
The "Siberia Elite" is Steel Series' highest performing headset and it expands on the original Siberia platform. It sells for $199.99 and can be purchased at http://www.steelseries.com.
About NewsWatch
NewsWatch is a weekly 30-minute consumer oriented television show that airs monthly on the History Channel and weekly on the ION Network. NewsWatch regularly features top technology products, unique and beautiful travel destinations, health tips, medical breakthroughs, and entertainment news on the show. A recent addition to NewsWatch, Tech Report is a weekly segment that provides viewers technology reviews of the latest and hottest products and services out on the market for consumers.
The show airs in 180 markets nationwide as well as all of the top 20 broadcast markets in the country, and is the preferred choice for Satellite Media Tour and Video News Release Distribution.
For more information or to watch the latest app reviews featured on the show, head to http://www.NewsWatchTV.com/tech-report.html.