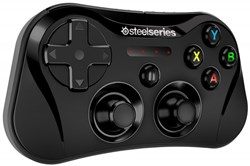 Washington, DC (PRWEB) February 07, 2014
"Stratus Controller" by Steel Series, a wireless mobile gaming controller, was featured on NewsWatch as part of its 2014 Consumer Electronic Show Wrap Up, which took a look at the latest and coolest technology showcased at the trade show. Scott Steinberg, a national technology expert, conducted the product review and shared with viewers how it's one of the first wireless controllers for iOS devices.
The gaming industry had a huge imprint at the 2013 Consumer Electronics Show. While there were hundreds of games and accessories for consoles, PCs, and mobile platforms, not many companies focused on controllers. Considering one of the main issues gamers have with the mobile experience is the lack of a controller, it's no surprise that SteelSeries created the Stratus Controller.
The Stratus Controller is a wireless controller that's designed for gaming on newer iOS 7 devices, including the iPad Air and iPhone 5. Connecting over Bluetooth, users can now pick up a controller and, without lag or limits, choose from hundreds of iOS 7 games.
The controller has two analog sticks and a pressure sensitive D-pad, 4 action buttons, and 4 shoulder buttons. The controller has a battery life of 10 hours and can be recharged in around 2 hours. It's one of the first standalone controllers for Apple devices and works perfectly with all controller-enabled iOS7 games.
The Stratus Controller costs approximately $100 and can be purchased online at http://www.steelseries.com.
About NewsWatch
NewsWatch is a weekly 30-minute consumer oriented television show that airs monthly on the History Channel and weekly on the ION Network. NewsWatch regularly features top technology products, unique and beautiful travel destinations, health tips, medical breakthroughs, and entertainment news on the show. A recent addition to NewsWatch, AppWatch is a weekly segment that provides viewers app reviews and game reviews of the latest and hottest apps and games out on the market for iOS and Android devices.
The show airs in 180 markets nationwide as well as all of the top 20 broadcast markets in the country, and is the preferred choice for Satellite Media Tour and Video News Release Distribution.
For more information or to catch all the products reviewed at the 2014 Consumer Electronics Show, visit http://newswatchtv.com/ces-2014.html.