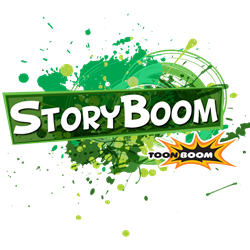 Washington, DC (PRWEB) June 30, 2014
"StoryBoom", an art application for reinforcing concepts in school was featured on NewsWatch as part of its monthly Tech Report, which takes a look at the latest and coolest products in the technology world. Mallory Sofastaii, a host of NewsWatch and technology expert, conducted the app review and shared with viewers how it helps uses art to help children understand concepts.
Schools across the country have cut art programs out of their curriculum in favor of the common core subjects. Unfortunately, a recent study by PBS shows that engaging children with art is beneficial to their development and is correlated to stronger concept comprehension.
ToonBoom recognized the need for art education and created StoryBoom, a platform that encourages creativity and critical thinking in children. Storyboom allows a child to construct a digital storybook by creating images and adding text to show their understanding on a subject.
With the app, children can create or import a picture for their background, they can draw over that background, and then they even add animation to the entire piece using a separate packaged called FlipBoom.
For example, if children are learning the water cycle in class, the teacher can have each child use StoryBoom to draw clear skies, then clouds, then rain, then evaporation back into the sky. Then the entire storybook can be animated into one piece and shared with the class as a presentation.
StoryBoom is available for Windows and Mac computers and they offer special educational pricing for educators. To learn more, head to http://www.toonboom.com/storyboom.
About NewsWatch
NewsWatch is a weekly 30-minute consumer oriented television show that also airs monthly on the History Channel, Bio Channel, and ION Network. NewsWatch regularly features top technology products, unique and beautiful travel destinations, health tips, medical breakthroughs, and entertainment news on the show.
Tech Report is a weekly segment that provides viewers tech reviews of the latest and hottest consumer oriented technology products on the market.
NewsWatch airs in 180 markets nationwide as well as all of the top 20 broadcast markets in the country, and is the preferred choice for Satellite Media Tour and Video News Release Distribution. For more information or to watch the June 2014 show, visit http://newswatchtv.com.
NewsWatch airs on the History Channel at 6:00 – 6:30 AM ET/PT and on the Bio Channel from 7:00 – 7:30 AM ET.