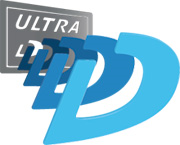 StreamTV has solved the common issues with 3D televisions by making a glasses free 3D television that converts anything into 3D. Amazing!
Washington, DC (PRWEB) March 21, 2014
The "StreamTV" Glasses Free 4K 3D TV was featured on NewsWatch as part of its 2014 Consumer Electronic Show Wrap Up, which took a look at the latest and coolest technology showcased at the trade show. Scott Steinberg, a guest host of NewsWatch and technology expert, conducted the product review and shared with viewers how it can also instantly convert any video into a 3D experience.
A few years ago, 3D televisions were the rage at the Consumer Electronics Show in Las Vegas, NV. While 3D "technology" is still popular, interest in 3D TVs declined because of the glasses and a lack of 3D content. At the 2014 Consumer Electronics Show, 4K Televisions dominated, and a company called StreamTV Networks created a lot of buzz for taking 4K to the next level with a technology that's solved the 3D TV issues.
StreamTV is a glasses free 4K 3D television that can convert any video, whether a 3D movie or HD feed from a cable box, into a comfortable 3D experience. A powerful new QualComm chip inside does the content conversion while the state-of-the-art 4K screen lets viewers see high quality depth in 3D. It comes with a remote to allow the viewer to adjust the 3D depth to their liking.
Stream TV will be available through numerous consumer brands for limited distribution this summer and fully available by the holidays. To learn more about it, visit http://www.ultra-d.com today.
About NewsWatch
NewsWatch is a weekly 30-minute consumer oriented television show that airs monthly on the History Channel and weekly on the ION Network. NewsWatch regularly features top technology products, unique and beautiful travel destinations, health tips, medical breakthroughs, and entertainment news on the show. A recent addition to NewsWatch, AppWatch is a weekly segment that provides viewers app reviews and game reviews of the latest and hottest apps and games out on the market for iOS and Android devices.
The show airs in 180 markets nationwide as well as all of the top 20 broadcast markets in the country, and is the preferred choice for Satellite Media Tour and Video News Release Distribution.
For more information or to catch all the products reviewed at the 2014 Consumer Electronics Show, visit http://newswatchtv.com/ces-2014.html.